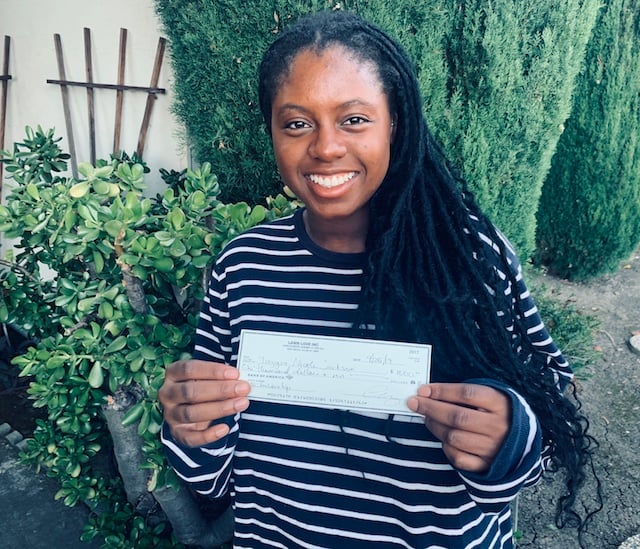 Twice a year we award a deserving student the Lawn Love Creating Leaders Scholarship. This scholarship is our way of helping the next wave of entrepreneurs in their pursuit of education and excellence.

We award $1000 to any driven student that has a problem they're passionate about solving. This September we are thrilled to award the Lawn Love Creating Leaders Scholarship to Taggra Jackson. Taggra grew up in Los Angeles, CA and is currently attending the University of San Francisco to earn her Master's degree in Biotechnology.
Prevailing through hardships such as growing up in a broken foster home system, and eventually being raised in a single-parent home with only her grandmother to support her, Taggra is now on track to graduate from grad. school in May of 2020. She has hopes of using her degree to research distinguishing host responses of bacterial vs. viral infections. This work will help save lives in emergency rooms across the world by providing doctors with more resources to confidently administer antibiotics in a more cost-effective manner.
In addition to grad school, Taggra is also a spokesperson for two adoption advocacy groups (AdoptUSKids and SCFAA). She is a leader in the intercultural program at her school, a leader in M.O.V.E (a program that educates underrepresented high school students about college), a leader for the Jackie Robinson Foundation (educating middle-school students in LA about scholarships), VP and then President of the Black Student Union (BSU), a leader in student government, and a representative in the dorm council for all four years of undergrad. She has also volunteered at an international hospital in Pula, Croatia. Taggra does all of this while maintaining a 3.8 GPA.
We couldn't have hoped for a better applicant to award the scholarship to and we are so happy to help someone who is passionate about business and education. All the best for your future Taggra!