According to our surveyed Lawn Pros, 90% are continuing to work and operate as usual while taking some additional safety precautions. Less than 10% reported that they have either slowed down, or stopped operations all together.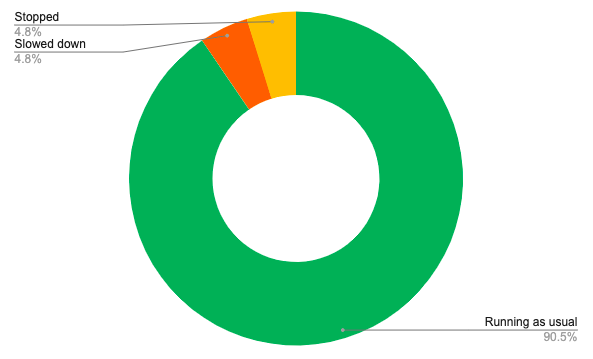 Lawn care professionals can continue to work as an essential service provider, while avoiding risk using safety tips mentioned below.

With the White House advising us to practice social distancing and stronger action with issuing stay-at-home orders in many states, many business owners have questions of how to operate their businesses in the face of the COVID-19 virus. Fortunately, the lawn care industry has remained largely unaffected.

Landscaping services fall under the "Services to Building and Dwellings" exemption category.
The government published a list of industries that are exempt from closure and are allowed to continue regular business operation. The Department of Homeland Security has labeled lawn care as an "essential service" on the federal level. According to the National Association of Landscape Professionals, landscape services are deemed essential due to the following reasons:

"Landscapers are protectors of public health performing essential treatments to lawns and green spaces to reduce the transmission of dangerous and deadly diseases through pests like mosquitoes, ticks, and fleas.
Landscapers protect property and maintain green spaces that could otherwise jeopardize public safety. Unkempt fields and green spaces increase the chance of injuries. Crime rates are increased in areas where green spaces are not maintained.
Landscapers play a critical role in boosting morale and mental health during a difficult time for our Nation. Without landscape services fields, parks, businesses, and homes will become overgrown and unkept, which can have dramatic psychological effects on the mental and wellbeing of our communities.
Spring is a critical time of year for the industry due to the abundance of growth in the spring that requires prompt maintenance and care. Any halt or delay in landscape services during this time of year only magnifies potential safety problems and become much more difficult to maintain later in the year."
Providing lawn care services is essential to maintaining a healthy environment, and luckily most of the work tasks adhere to social-distancing. At Lawn Love, our provider application actually allows a no-contact lawn care experience by scheduling work, requoting jobs, and processing payments all on your device.

When conducting business, it is essential to maintain minimal contact with customers and the public.

Lawn pros can maintain the CDC recommended 6 foot safe social distance spacing from customers and other people, as yard maintenance is done outdoors in open spaces. However, if in-person contact with a customer is necessary, please ask for cooperation in keeping at least six feet of distance and avoid handshakes.

Lawn Love offers paperless, instant quotes and billing and all communication can be completed via the customer's Lawn Love account, phone, or email. This remotely managed alternative which is safer than traditional lawn care practices that involve in-person estimates and person-to-person handling of payments of cash or check
Safety tips:
Continue to monitor and comply with all Federal, State, or Local advisories and precautionary measures.
Wash your hands for at least 20 seconds regularly throughout the day. If soap & water is not available, use alcohol-based hand wipes.
Wear clean, and properly stored "personal" protective equipment (PPE).
Due to working outside, access to soap and water may be difficult. Please utilize gloves and wipes within your truck and each job site.
Even if a customer offers, DO NOT enter a customer's home.
Wipe down tools and work areas with hand wipes or a bleach solution at least once a day or when passing tools & equipment between workers.
Whenever possible avoid crowds, even when you're off the clock. If only one vehicle is used, make every effort to sit as far away from each other as possible.
Cover coughs and sneezes.
In the event that you or anyone on working with you feels unwell, you are urged to stay home and self-quarantine for 14 days.
By following these tips, and practicing safe social distancing, we can all help flatten the curve and slow the spread of COVID19. The main priority is staying safe and making sure hospitals aren't broken by an influx of COVID19 patients.

For more information, the CDC's Coronavirus website is: https://www.cdc.gov/coronavirus/2019-ncov/index.html