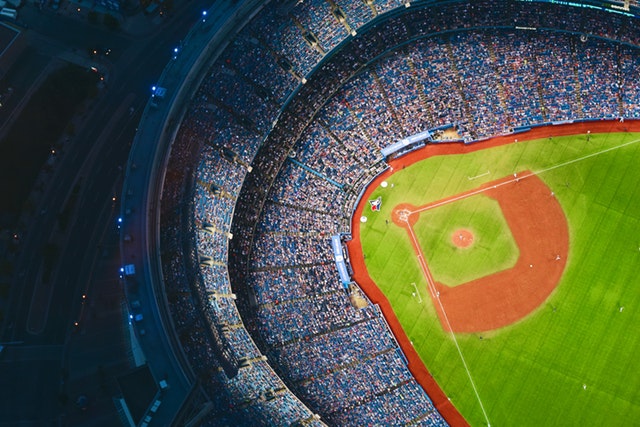 I don't know about you, but I'm alway impressed by the grass at MLB games. The symmetrical lines and interesting patterns make the turf look like the official flannel shirt of St. Patricks day. In honor of baseball season, I did some digging into what the MLB parks use.
Kentucky Bluegrass
Kentucky Bluegrass is by far the most popular type of grass used in MLB ballparks. Its bright green color, combined with its changeable properties, makes it easy to shape. Basically, Bluegrass is like hair that grows its own styling gel.
Blended Mixes
The second-most common grass type in the old ball game is a blended mix. These typically include ryegrass mixes with Bluegrass. The idea here is that the shortcomings of one grass type are compensated by the strengths of the other varieties.
Bermuda Grass
Bermuda grass is the turf of choice in hotter and drier areas, from Southern California to South Florida. Bermuda grass grips extraordinarily well with cleats because it grows parallel to the ground and grows new roots along the way.
Anomalies
Paspalum is typically seen on golf courses, but there are two ballparks that use this grass as well: Minute Maid Park in Houston and Marlins Parks in Miami. It grows quickly and performs well in warmer climates. Finally, there is one MLB field that uses another substance. I won't name the ballpark or the substance, but they rhyme with Shmays and Shmashtro Shturf.
Here's a list of MLB ballparks by grass type.
Bluegrass
Yankee Stadium (New York, NY)
Oriole Park (Baltimore, MD)
Progressive Field (Cleveland, OH)
Angel Stadium (Los Angeles, CA)
Busch Stadium (St. Louis, MO)
Citizens Bank Park (Philadelphia, PA)
Miller Park ("Lo-Mo" Kentucky bluegrass)(Milwaukee, WI)
Nationals Park (Washington, D.C.)
Citi Field (Queens, NY)
Comerica Park (Detroit, MI)
U.S. Cellular Field (Chicago, IL)
Target Field (Minneapolis, MN)
PNC Park (Tuckahoe Bluegrass) (Pittsburgh, PA)
Fenway Park (Boston, MA)
Oakland-Alameda County Coliseum (Oakland, CA)
Blends
Coors Field (Bluegrass / Ryegrass blend) (Denver, CO)
Rangers Ballpark (Infield, Hybrid Y2 Zoysiagrass, Outfield, Tifway 419 Bermuda grass) (Arlington, TX)
Safeco Field (Kentucky Bluegrass / Perennial Ryegrass blend) (Seattle, WA)
Great American Ballpark (Bluegrass blend) (Cincinnati, OH)
AT & T Park: Sports Turf (blend of five low-growing bluegrass hybrid turf grasses) (San Francisco, CA)
Wrigley Field (Merion Bluegrass and some Clover) (Chicago, IL)
Kauffman Stadium (Kentucky Bluegrass / Perennial Ryegrass blend) (Kansas City, MO)
Bermuda grass
Dodger Stadium (Santa Ana Bermuda grass)(Los Angeles, CA)
Turner Field (Hybrid Bermuda grass) (Atlanta, GA)
Chase Field (Bull's Eye Bermuda grass)(Phoenix, AZ)
Petco Park (Bull's Eye Bermuda grass) (San Diego, CA)
Paspalum
Minute Maid Park (Platinum TE Paspalum) (Houston, TX)
Marlins Park (Platinum TE Paspalum) (Miami, FL)
Sara Butler
Sara Butler has written scores of articles for Lawn Love -- everything from how to revive your dead lawn to how to start to lawn care tools every homeowner should have.