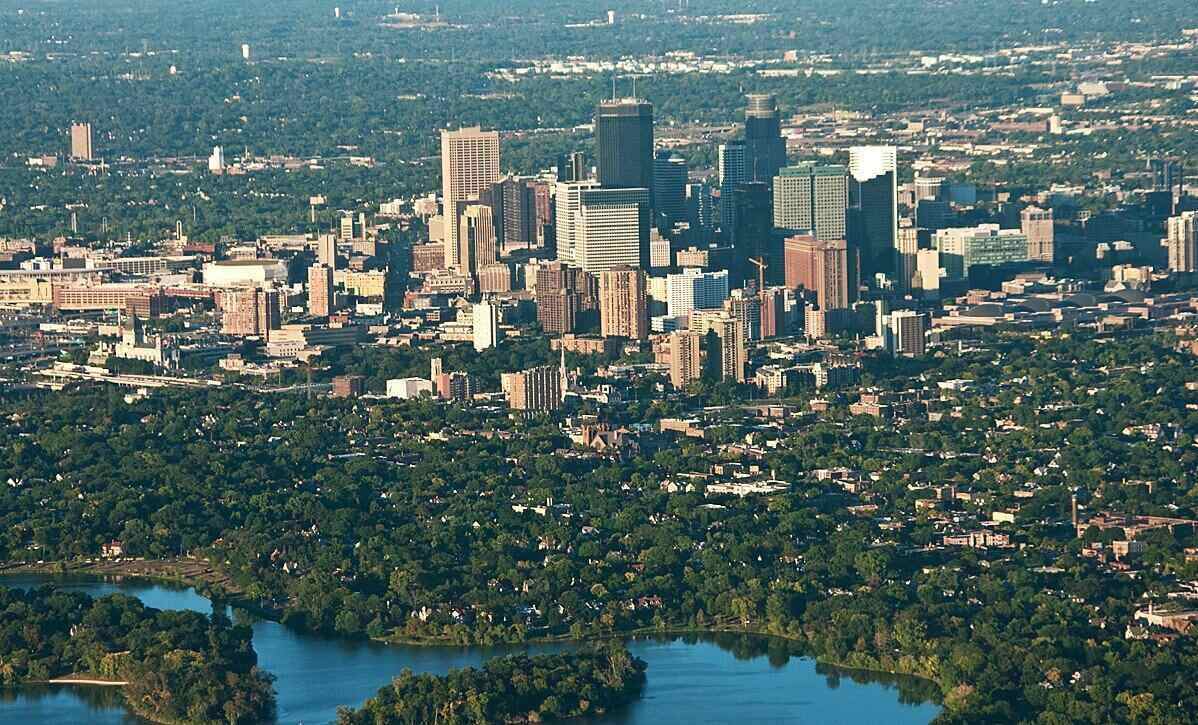 Which grass types are best for your Twin Cities lawn? We recommend these three:

Fine fescue
Kentucky bluegrass
Turf-type tall fescue
Here are a few reasons why these are the best grass types for your lawn:

Cool-season grasses work best in Minnesota because of our four seasons and cold winters.
Each of these three cool-season grasses has different characteristics. Consider each grass type carefully to select the best one or grass mix for your lawn.
Now let's take a closer look at the characteristics, maintenance needs, and recommended mowing height of fine fescue, Kentucky bluegrass, and turf-type tall fescue.
1. Fine fescue
Fine fescue is a group of several different species of grass: chewings fescue, hard fescue, sheep fescue, slender creeping red fescue, and strong creeping red fescue.

Standout characteristics of fine fescues include moderate shade tolerance and full sun tolerance. For this reason, fine fescue is often mixed with Kentucky bluegrass to increase the shade tolerance in partial shade lawns.

Fine fescue produces an easy, low-maintenance lawn. Its slow growth rate means you'll mow less. Fine fescue also boasts a low watering requirement during the summer and stays green longer than a Kentucky bluegrass lawn. It is also very winter hardy and can tolerate a moderate amount of salinity.
Expect this turf to decline in quality once the temperatures reach the 90s and after excessive wear or foot traffic. On the other end of the seasonal spectrum, fine fescues don't recover well from snow mold, which means you may lose some of the grass if you have a severe outbreak of this disease.
Classification: Cool-season grass
Spreads By: Most fine fescues don't have stolons or rhizomes; they are a bunching grass and spread by tillers. Creeping red fescues do have short rhizomes.
Shade Tolerance: Moderate
Drought Tolerance: High
Foot Traffic Tolerance: Low
Maintenance Needs: Low to moderate
Mowing Height: 3+ inches
Potential for Disease: Low to moderate
Other Notes: Fine fescue is a great choice for a low-maintenance lawn. Choose endophyte-enhanced seed for increased insect and disease protection, including from dollar spot. Summer patch and red thread are also problems with this species.
Grass Seed Options:
– Outsidepride Legacy Fine Fescue Grass Seed (5 lbs.)
– Eretz Creeping Red Fine Fescue Seed (choose your size)
– Outsidepride Creeping Red Fine Fescue Grass Seed (25 lbs.)
– Outsidepride Hard Fine Fescue Grass Seed (10 lbs.)
2. Kentucky bluegrass
Kentucky bluegrass (KBG) is a very common grass in the Minneapolis/St. Paul area. However, it takes work to keep this grass looking its best.

Kentucky bluegrass is considered a high maintenance grass. It requires regular watering and nitrogen to keep it in top shape. With those high inputs, you can get high outputs as well. A well maintained KBG lawn is beautiful, recuperates well from foot traffic, and is very winter hardy. In addition, Kentucky bluegrass can be established with seed or sod.

If you're willing to put in the work and have ideal environmental conditions, your Kentucky bluegrass yard will look great.


Classification: Cool-season grass
Spreads By: Rhizomes
Shade Tolerance: Low
Drought Tolerance: Moderate but has an excellent recuperative ability
Foot Traffic Tolerance: Moderate
Maintenance Needs: High
Mowing Height: 3+ inches
Potential for Disease: Moderate to high
Other Notes: Kentucky bluegrass will go dormant quickly during a drought, but its rhizomes help it to recover quickly once watering resumes.
Grass Seed Options:
– Jonathan Green (11970) Blue Panther Kentucky Bluegrass Grass Seed (3 lbs.)
– SeedRanch Midnight Kentucky Bluegrass Seed (5 lbs.)
– Jacklin Seed – Biltmore Blue Blend – 100% Kentucky Bluegrass (5 lbs.)
3. Turf-type tall fescue
Tall fescue is a less popular but worthy addition to our list of the best grass types for Minneapolis-St. Paul.
Here's why: Tall fescue has excellent wear and traffic tolerance, which is great for an active family or pets. If you are concerned about drought, this is an excellent grass choice. Tall fescue has a deep root system that helps it to withstand low water conditions. It does like regular watering, though. This grass is often considered a low-maintenance alternative to Kentucky bluegrass.

Another benefit of this deep root system is that tall fescue stays relatively green throughout the summer because it has access to water deep in the soil.

Downsides? Turf-type tall fescue doesn't green up quickly in the spring and has a high risk for snow mold in Minnesota.

Classification: Cool-season grass
Spreads By: Most tall fescues are bunching, but some varieties have short rhizomes
Shade Tolerance: Partial shade
Drought Tolerance: Moderate to high
Foot Traffic Tolerance: High
Maintenance Needs: Low
Mowing Height: 3+ inches
Potential for Disease: Low to moderate except in the case of snow mold. Very susceptible to this fungus.
Other Notes: Tall fescue is often used in parks due to its excellent wear tolerance, but don't use tall fescue in an area that collects standing water due to the risk for ice damage.
Grass Seed Options:
– Triple-Play Tall Fescue Grass Seed Blend (5000 sq ft)
– Eretz Kentucky 31 K31 Tall Fescue Grass Seed (choose your size)
– Pennington The Rebels Tall Fescue Grass Seed Mix (7 lb.)
Seed mixes are a common option
In practice, most cool-season grasses are sold in mixes. That is, two or more species are sold together in a bag. This helps to create a stronger, more disease-resistant lawn. So, if you only come across seed mixes, that is common, and that is the way most Minnesota homeowners seed their cool-season lawns.
How to select the best grass type for your lawn
It's important to know your lawn before you plant new grass. Consider these points:

How much maintenance do you want to do?

Kentucky bluegrass has the highest maintenance needs, but turf-type tall fescue works well in a low-maintenance lawn.
What is your lawn's sun/shade requirement?

Fine fescue and turf-type tall fescue tolerate some shade; Kentucky bluegrass must have full sun to thrive.
Is your area subject to drought in the summer?

All three types of grass have a moderate to high level of drought tolerance.
How much foot traffic does your lawn receive?

If you love to play soccer or other backyard sports, turf-type tall fescue is your best bet. If your lawn is just for show, fine fescue and Kentucky bluegrass are a better option.
If you prefer to spend your weekends in a canoe on the lake, contact a lawn care pro in Minneapolis to get your lawn in top shape. Let one of our lawn care crews mow, edge, trim, and ensure your grass stays healthy all growing season long.
Main Photo Credit: Ron Reiring | Flickr | CC BY 2.0
Lawn Love participates in the Amazon Services LLC Associates Program, an affiliate advertising program. Lawn Love may earn revenue from products promoted in this article.
Sarah Bahr
Sarah is a writer who has previously worked in the lawn care industry. In her spare time, she likes to garden, raise chickens, and mow the grass with her battery-powered lawn mower.