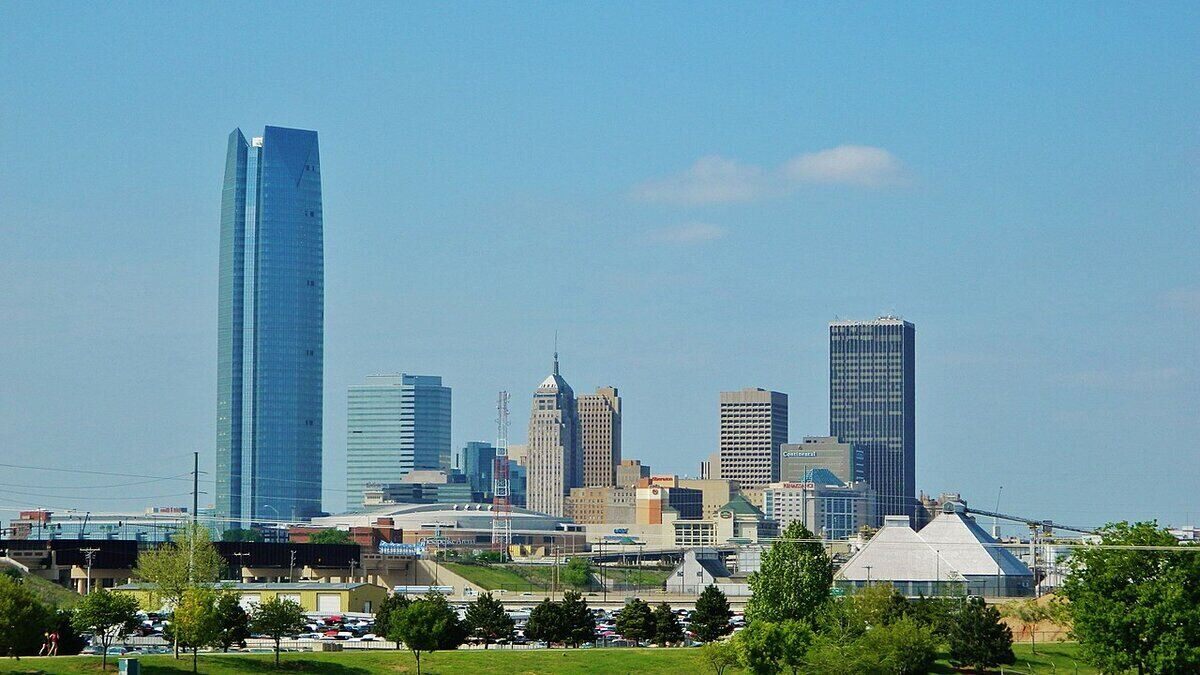 Oklahoma City may be nicknamed "The Big Friendly," but the weather here isn't always friendly to your lawn. To keep your yard lush, you'll need grass that can withstand hot summers, dry seasons, and variable weather conditions.

The four top choices for lawns in Oklahoma City are bermudagrass, perennial ryegrass, buffalograss, and zoysiagrass.

Keep reading to learn more about these four grass types and how to decide which will best suit your unique lawn.
1. Bermudagrass
Bermudagrass is a warm-season grass with a grayish-green color. This grass has excellent tolerance for heat and drought and will spread fast. Because it spreads quickly, it will invade ornamental flower beds. Its extensive root system gives it more resilience against environmental stresses. Allowing some thatch (the matted layer of old stems and stolons) to develop will improve the appearance of bermudagrass.

This grass is perfect for sunny yards with lots of foot traffic from kids, pets, or guests.

Classification: Warm-season grass
Spreads by: Stolons (above-ground stems) and rhizomes (below-ground stems)
Shade tolerance: Low; prefers full sun
Drought tolerance: High. This grass tolerates drought but will need weekly watering to remain green.
Foot traffic tolerance: High
Maintenance needs: Regular watering and weekly or bi-weekly mowing and fertilization during the growing season
Mowing height: 1-1.5 inches for hybrids and 2 inches for common variety
Potential for disease: Moderate; susceptible to fungus in spring when weather is wet and mild
2. Perennial ryegrass
Perennial ryegrass is a cool-season grass that will go dormant in the summer heat. It's fast-growing and can thrive when mixed with other species. It requires more maintenance than other grasses because it requires frequent watering and regular fertilization.

Whereas warm-season grasses thrive in full sun, this grass can do well in shaded lawns. Perennial ryegrass is susceptible to a few common grass diseases. You'll want to watch out for brown patch, pythium, red thread, dollar spot, and rust.

Classification: Cool-season grass
Spreads by: Bunch-type
Shade tolerance: Moderate; will tolerate shade
Drought tolerance: High; will go dormant in a drought and can be brought back quickly with the first rainfall
Foot traffic tolerance: High
Maintenance needs: Low
Mowing height: 1-2 inches
Potential for disease: Low
Other notes: Produces less thatch compared to other cool-season grasses. Avoid the "Lynn" variety.

3. Buffalograss
Buffalograss is a fine-textured, blue-green grass that is highly tolerant of drought and heat. Although it's warm-season grass, it will tolerate some cold, too. You can expect it to be semi-dormant mid-fall through mid-spring.

While buffalograss is not suited for high-traffic or shaded lawns, it's a good option if you're seeking a low-maintenance turfgrass.

Classification: Warm-season grass
Spreads by: Stolons
Shade tolerance: Low
Drought tolerance: High
Foot traffic tolerance: Low
Maintenance needs: Low; overmanagement can hurt this grass.
Mowing height: 1 inch in sun and 2 inches in shade. Mow weekly or biweekly.
Potential for disease: Low
Other notes: This grass spreads quickly, but be careful not to overwater to avoid invasive weeds.

4. Zoysiagrass
Zoysiagrass is dense, warm-season grass that is fine to medium in texture. It requires more maintenance than the others but can yield high-quality results, particularly in well-irrigated areas. It is the toughest of the warm-season grasses since it can stand up to heat, cold, drought, heavy foot traffic, and other environmental factors.

This is a great option for people who like to care for their lawn regularly and have time for dethatching. Zoysia's thick growth defends against invasive weeds, but it also produces a thatch buildup that requires aeration once a year or every other year.

Classification: Warm-season grass
Spreads by: Below-ground rhizomes and above-ground stolons
Shade tolerance: Moderate; prefers full sun, but tolerates light shade
Drought tolerance: High
Foot traffic tolerance: High
Maintenance needs: Moderate; this grass requires fertilizer and prefers frequent, small amounts instead of one large application
Mowing height: 2-3 inches
Potential for disease: Moderate
How to choose the best grass type for your Oklahoma City lawn
Although all four grass types can do well in Oklahoma City, there are a few other factors to think about when choosing which one you'll use for your lawn.

Is your yard primarily sunny or shaded?
Zoysiagrass will tolerate light shade.
Is having a green lawn year-round important to you?
Try overseeding bermudagrass with perennial ryegrass.
Are you looking for something low maintenance?
Buffalograss is the best option for a low-maintenance lawn.
Tip for overseeding
Warm-season grasses do best in this area, but you'll need to overseed with a cool-season grass to have green through the winter. Plant perennial ryegrass in late September or October to keep your lawn lush until the heat and your permanent grass return.

After the warm-season grass goes dormant, mow it to 1 inch and gather the clippings. Rake the area in order to score the soil's surface so your perennial ryegrass can germinate properly by coming in direct contact with the moist soil.

Need a helping hand? Find an Oklahoma City landscaping company that can assist you with lawn installation and maintenance.
Main Photo Credit: Urbanative | Wikimedia Commons | CC BY-SA 3.0
Rachel Abrams
Born and raised in Gainesville, Florida, Rachel Abrams studied creative writing at the University of Virginia. She enjoys volunteering at her neighborhood community garden and growing herbs in her New York City apartment.