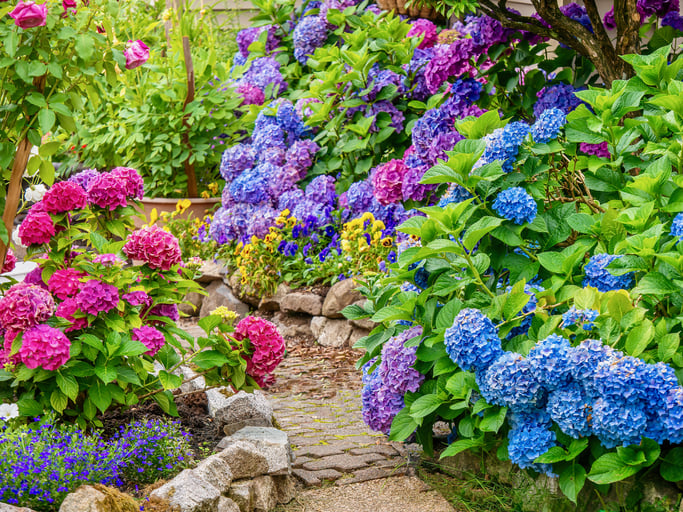 What are gardening zones?

Planting a garden can be a really a fun thing to do especially if it's something you are passionate about. However, it can be frustrating especially if your plants don't grow to be as healthy or as beautiful as you planned, or worse, if they die, even after all the care you have given. 

There are factors that affect growth that we can't control, such as weather. When places get different amounts of hot or cold weather, it will affect the survival of the plants in the area. What works well in one area doesn't necessarily mean it will work as effectively in another place.

What grows in one place doesn't mean it will do well somewhere else. This is why it is important for a gardener to know what plant will grow well and can survive the winter cold.

Gardening zone map

The U.S. Department of Agriculture or Agriculture Department is the federal executive department that is responsible for the development and implementation of federal laws related to farming, forestry, rural economic development, and food. It basically oversees the farming industry. It also manages different programs related to food, agriculture, natural resources, rural development and nutrition.

The USDA developed the USDA Hardiness Zone Map also called, the gardening map, or the U.S. plant zone map. It is used to distinguish how cold each U.S. region or place can get and help you determine which plants can thrive and survive in your region to give you the best chance of success in picking up plants for your yard that can withstand the coldness of the winter.

This will also tell you which plant will be annual or perennial in your area. An annual is a plant that you have to replant every single year. There is a perennial plant as well which is a plant that after you plant it the first year, it will keep coming back every single year in your yard.

The map is available as an interactive GIS-based map, for which a broadband Internet connection is recommended, and as static images for those with slower Internet access.

Plant hardiness zone designations denote the average annual extreme minimum temperature reached for a location over a specified time which is really important in plants' survival at specific locations.

They do not reflect the coldest it has ever been or ever will be. There are three versions of this map. All versions divided North America into zones, one zone is 10 degrees fahrenheit warmer or colder in winter than the adjacent zone. The Agriculture department has three versions of this map. One in 1960, another in 1990 and the new one was released in 2012. The updated version of this map has now broken down North America into thirteen zones, it has more zones now compared to the previous versions.

Zone number one is the coldest and thirteen being the warmest. Each zone is further divided into two regions labeled "a" and "b" with 5 degrees fahrenheit difference. The scale is from negative 60 degrees fahrenheit for zone 1 region "A" to 70 degrees fahrenheit for zone 13, region "B".

What garden zone am I in?

To know which garden zone you are in, just go to https://planthardiness.ars.usda.gov/ then type in your zip code or select your state.

For example, if you live in Eureka, North California, you just need to select "California-North " on the drop down for the state and then, a color-coded USDA Hardiness zone map will show up.

Check the color of your city on the map and match it with the color on the legend located at the right side of the page. The matching color will show you which zone you are in.

To make your life easier, it is better to key in your zip code as the page will automatically tell you your zone and the average annual extreme minimum temperature in your zip code. In the same example, if you key in Eureka's zip code 95501, it shows it is Zone 9b : 25 to 30 degrees fahrenheit.

You can also go to the nearest local garden center in your area and ask. They know what zone your city is in, for sure.

How do I use the map when picking plants?

"Hardiness zone" or "zone" you might see in a plant description or label or a gardening catalog refers to the USDA Hardiness scale. To use the plant zone map, check your zone first as discussed above, then just check the zone indicated on the label of the plant.

For example, if you check Ceanothus 'Dark Star's label, it is for hardiness zones 8 to 10. Since Eureka, North California is at Zone 9b, Ceanothus 'Dark Star' can grow and thrive in this city during winter. Don't get the idea that Ceanothus 'Dark Star' should not be planted in Eureka.

Yes, you can definitely still grow this plant or any other plant that does not match in your zone and see its beauty in your yard even if you are in a different zone, however, you need to expect that this plant is an annual which will not survive when the coldness of winter hits your area.

You just need to replant it yourself if you want to see it yearly in your yard. Otherwise, sow a plant that is good for your zone to have a perennial plant.

Whether you do planting for fun, business, or consumption, it is vital for you to know the hardiness zone for your region or area to avoid wasting your time, money and effort and eliminate chance of choosing, buying and planting a plant that cannot withstand the temperature down as low as the temperature your area will get.