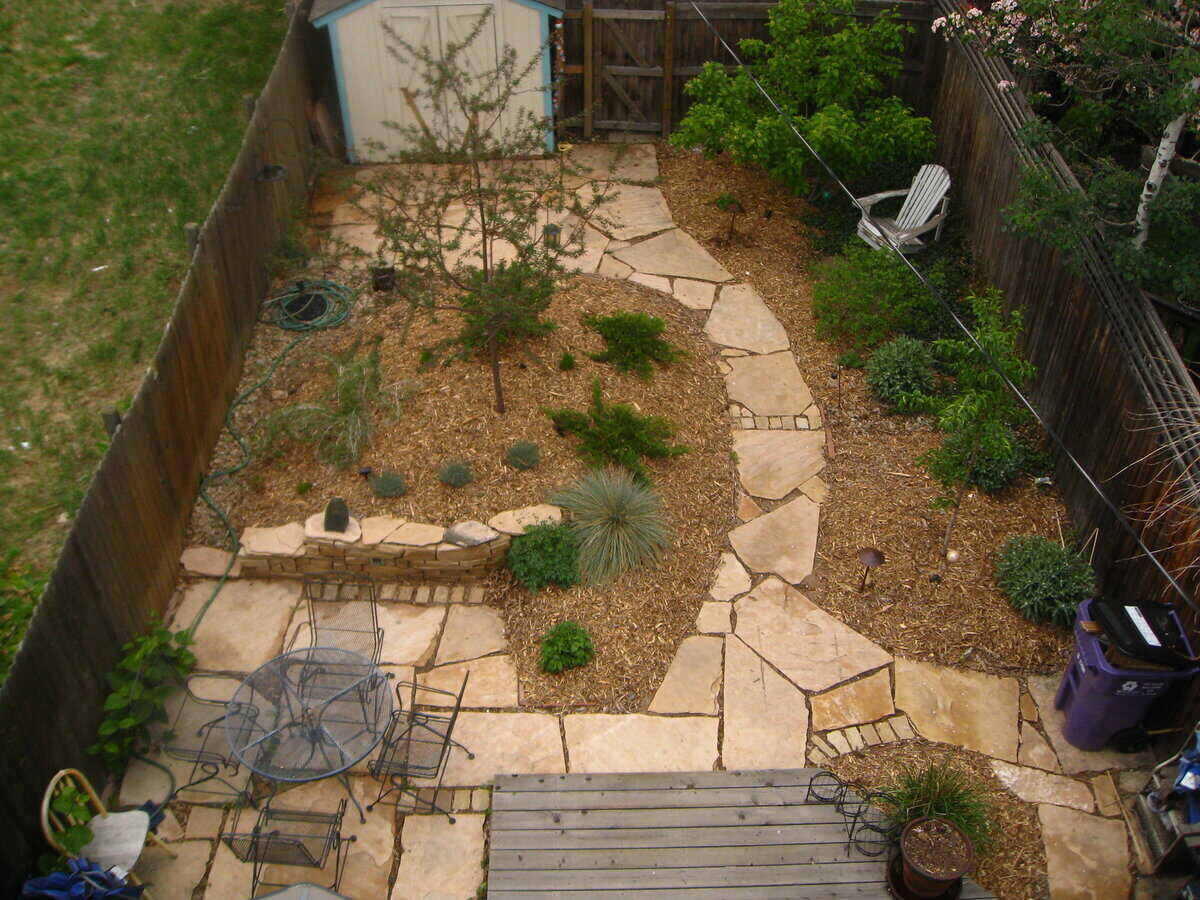 Why spend your weekends toiling in the yard when you could spend them cheering for the Buckeyes or strolling through Whetstone Park? By incorporating a few simple low-maintenance landscaping ideas, you can create a yard that will make your neighbors jealous without making you sweat.

Think a stunning yard is too good to be true? It's totally attainable for a Columbus homeowner like you. Implement a few of these 11 low-maintenance landscaping ideas now, and soon you'll have a head-turning yard that won't require hours of work on your weekends.

1. Replace plants with no-maintenance hardscapes
Swap some of your greenscapes for hardscapes. Here's why: Hardscapes don't need to be watered, fertilized, weeded, or pruned to look good year-round.

If you aren't familiar with the term, a hardscape is any man-made feature in your landscape that isn't a living thing. Examples of hardscapes include:

Patio
Deck
Pathway
Fence
Bench
Wall
Stairs
Pergola
Arbor
Gazebo
Fire pit
A well-constructed hardscape will last for years and need nothing more than an occasional cleaning, plus staining every few years if it's made of wood. Compared to the thorough, constant care that grass and other plants need, hardscapes are simple to maintain.

The more hardscapes in your landscape, the less work you'll have to do to keep your yard in prime condition.

Advantages of hardscapes:
Need cleaning or staining only once a year or even less frequently
Take up space that would otherwise be filled with needy plants
Boost curb appeal and improve property value
Most hardscapes serve a function in addition to looking good
Approximate cost: Depends on the hardscape type and the material used; $2,000-$4,000 for a paver pathway; $4,000-$11,000 for a deck; $2,000-$6,000 for a patio; $1,000-$6,000 for a fence; prices include professional installation

2. Build your own rain garden
Did you know Columbus has more rainy days than the average U.S. city? Columbus averages 40 inches of rain per year and the U.S. average is 38 inches. All that rain might be bad news for your plans to explore the Metro Parks or take your family to the Columbus Zoo, but it could be good news for your landscape if you build a rain garden.

The secret to a rain garden is planting it on a downhill slope or in a depression in the yard. Then, the garden will naturally collect rainwater as it flows, and you'll hardly ever have to water the plants yourself, if at all.

Rain gardens have other benefits, too. They can reduce flooding on your property and filter pollutants out of stormwater runoff before it finds its way back to natural water sources.

Need guidance on how to build a rain garden? Check out the Central Ohio Rain Garden Initiative for local resources and help with plant selection.

Advantages of rain gardens:
Don't need watering once established
Manage rainwater on your property so you don't have to worry about flooding
Help keep lakes and rivers clean by reducing water pollution
Provide a habitat for wildlife
Beautify your yard
Approximate cost: $100-$2,000 to build a rain garden yourself

3. Curate a colorful container garden
Keeping your garden "grounded" creates a lot of problems. Plants in the ground get choked out by weeds, eaten by pests, and develop diseases. By keeping your outdoor plants in pots instead, you eliminate a lot of these problems — along with the work that goes into preventing and treating them.

Outdoor potted plants, aka container gardens, can be just as lush, bright, and beautiful as those in the ground. The bonus is that container gardens are much easier to take care of, especially if you have a hard time getting on your knees to work in a traditional garden.

Another cool benefit? You can rearrange a container garden at any time. Give your landscape a fresh look every day, every week, every season, or whenever you want! You can even bring potted plants inside in winter so you don't have to worry about covering them, heating them, or otherwise protecting them from the cold Columbus winter.

Advantages of container gardens:
No more weeding
Less susceptible to pests and plant diseases than traditional gardens
You don't have to get on the ground to take care of them
No winter protection needed because they are portable
Great for beginner gardeners
Approximate cost: $20-$50 per plant

4. Get rid of grass; go with ground cover instead
Don't be fooled: Just because Columbus's cool-season grasses go dormant in summer doesn't mean you can stop taking care of them for half the year. To look good, grass needs weekly watering and mowing, fertilizing at least once a year, pest and disease management, and the list goes on.
Your grass is probably the neediest part of your landscape.

Get rid of the grass, and you get rid of a good chunk of your yard work to-do list. Instead, you can plant a low-maintenance ground cover.
Ground covers are plants that grow low to the ground and spread horizontally, forming a semblance of a traditional lawn. Ground covers are still living plants, so you will have to maintain them a little, but they definitely take a lot less work than turfgrass.

When it comes to choosing a ground cover, you have plenty of options depending on the look you're going for, your soil type, and the light conditions in your yard. According to the Toledo Lucas County Public Library, some of the best ground covers for Ohio lawns are:

Virginia creeper (Parthenocissus quinquefolia)
Bearberry (Arctostaphylos uva-ursi)
Goldenstar (Chrysogonum virginianum)
Advantages of ground covers:
No more lawn mowing
Need less water than traditional lawns
Suppress weeds
Retain moisture in the soil
Less susceptible to pests and diseases than traditional lawns
Approximate cost: $3-$13 per square foot of ground to cover

5. Mulch your plant beds
Mulching is probably the cheapest and easiest thing you can do to cut down the time you spend working in your yard. Spread a layer of mulch in flower beds, under hedges, around trees, and anywhere else you are growing plants.

The No. 1 purpose of mulch is to suppress weeds, and if you mulch properly, you can say goodbye to most weeding. Mulch also insulates plants' roots to keep them cool and help them retain moisture. That means you don't have to water plant beds with mulch as often as plant beds without mulch.

If you choose an organic mulch such as bark chips or pine straw, it will eventually break down into the soil, which is a good thing, but that also means you'll have to add new mulch every growing season.
For even less maintenance, you can use an inorganic mulch, such as pea gravel or rubber mulch, that will last for several years.

Advantages of mulch:
Prevents weeds
Keeps plants hydrated longer
Protects plants against cold temperatures
Adds nutrients to the soil
Helps prevent erosion
Makes plant beds look better in general
Approximate cost: Depends on the size of the area you need to mulch and the type of mulch; about $20-$70 per cubic yard

6. Fill your landscape with native plants
Love the look of a yard that's bursting with plant life, but don't have the energy to keep all those plants alive? Native plants could be a good solution for you. Any of Ohio's hundreds of native plants will be much easier to maintain than non-natives.

What makes native plants so low-maintenance? It's simple: Plants that grow naturally in Ohio can stay alive almost entirely on their own. From growing in the wild, these plants have adapted to thrive amid the area's climate, rainfall, and weeds. They've also developed ways to repel local pests and diseases without any help from you.

Here is a sampling of Ohio native plants:

Native flowers: Bloodroot (Sanguinaria canadensis), Canada lily (Lilium canadense), fringed gentian (Gentianopsis crinita)
Native shrubs: Red chokeberry (Aronia arbutifolia), mountain laurel (Kalmia latifolia), spicebush (Lindera benzoin)
Native trees: Pawpaw (Asimina triloba), elderberry (Sambucus canadensis), hackberry (Celtis occidentalis)
Advantages of native plants:
Need less watering than non-natives
Don't need fertilizers, pesticides, or weed killers
Natural habitat for wildlife
Won't die in winter
Approximate cost: $650-$3,000 per flower bed (with professional installation); $25-$3,000 to plant a new tree or shrub, all depending on the size and type of plant

7. Add water-saving succulents
In recent years, succulents have become all the rage for indoor and outdoor plant enthusiasts who don't have time to worry about a watering schedule. Here's why: Succulents store water in their thick leaves, so they need watering very rarely. All succulents need to thrive is a whole lot of sunshine.

Outdoor succulents in Columbus are even more low-maintenance than the norm because the area receives adequate rainfall. That rain will provide succulents in your yard with more than enough water to survive, and you likely won't have to water these plants.

There is one potential hurdle to overcome when growing succulents in Columbus: freezing winters. Because these plants are native to hot, dry places like Arizona and Southern California, many species aren't hardy enough to survive in Ohio's USDA hardiness zone 6a.

Ohio State University recommends these cold-hardy succulents for your northern landscape:

Hens and chicks (Sempervivum spp.)
Stonecrop (Sedum spp.)
Ice plant (Delosperma spp.)
Jupiter's beard (Jovibarba heuffelii)
Advantages of succulents:
Rarely (if ever) need watering
Not much need to clean up after or prune succulents
Approximate cost: $3-$25 per plant; cost based on the species and size of the succulent
8. Plant perennials, not annuals
Do you get tired of planting new flowers every spring after the old ones die in winter? Perennials can bring an end to that cycle. Use perennials in your flower garden instead of annuals, and you'll have a beautiful landscape for years to come.

The great thing about perennials is that they live through winter and bloom again the next year, over and over, all on their own. There's really no good reason to plant annuals since perennial plants come in a wide variety of sizes, colors, and flower shapes.

Some native Ohio perennials include:

Black-eyed Susan (Rudbeckia hirta)
Blue wild indigo (Baptisia australis)
Butterfly weed (Asclepias tuberosa)
Advantages of perennials:
Re-bloom every year without help from you
Plants have a strong root system
Huge variety of perennial plants available
Approximate cost: Anywhere from $650-$3,000 for a new flower garden installed by a professional landscaper

9. Kiss fall cleanup goodbye with evergreens
Unlike deciduous trees and bushes, evergreens maintain their leaves all year long. If you fill your landscape with evergreens, you won't have a sea of leaves to rake up every fall. You also won't have to look at an empty landscape of barren trees through winter, since evergreens always stay green (that's where they get their name).

What are the best evergreens for a Columbus landscape? Search through the Ohio Division of Wildlife's Trees of Ohio Field Guide. According to the field guide, some evergreens that do well in Ohio include Colorado blue spruce (Picea pungens), eastern redcedar (Juniperus virginiana), and eastern hemlock (Tsuga canadensis).

Advantages of evergreens:
Don't shed all their leaves every fall, making a mess of your yard
Keep your landscape green and full year-round
Approximate cost: Typical costs range from about $25 for a small shrub up to $3,000 for a large mature tree

10. Learn to xeriscape
Xeriscaping is a common landscaping practice for drought-prone states. At the most basic level, a xeriscape is a landscape designed to use as little water as possible.
You might think xeriscaping is unnecessary in Columbus, but as climate change gets more severe, drought conditions in Ohio are possible. Not to mention, the more water-wise your yard is, the less maintenance it will need.

Xeriscapes include elements like:

Native drought-tolerant plants
Succulents in containers
Gravel beds
Rock gardens
Limited turfgrass
According to the Garden Club of Ohio, the best way to xeriscape your yard is one incremental step at a time. You don't have to remodel the whole landscape right away.
Maybe this year you install a small gravel bed, then next year you replace a portion of your lawn with a low-maintenance ground cover. Before you know it, you'll have a trendy landscape that you barely have to water.

Advantages of xeriscaping:
Needs little to no watering
Fewer problems with pests and plant diseases than a traditional lawn
Overall low maintenance
Provides natural beauty
Approximate cost: Depends on whether you xeriscape for yourself or hire a professional; overall cost can range from $3,000-$30,000 for a whole new xeriscape

11. Install artificial turf
What could be more low-maintenance than artificial turf? You don't have to water it, mow it, weed it, or apply pesticides. You just install it and clean it.

Artificial turf is an especially smart choice for people with children or pets. The rugrats can play in the yard all they want without killing the grass.

Advantages of artificial turf:
No maintenance required
Child- and pet-friendly
Can find artificial turf made to look like any type of grass you want
Your lawn looks great year-round
Approximate cost: $5-$19 per square foot, including professional installation

Why low-maintenance landscaping?
You might feel a little overwhelmed at the thought of implementing some or all of these low-maintenance landscaping ideas, but don't worry. Most of these low-maintenance landscaping ideas for Columbus are easy to put into action, and they'll definitely pay off in the long run.

By incorporating even a few of our low-maintenance landscaping ideas in your yard, you'll reduce your water usage, saving on monthly water bills for years to come.
More importantly, you'll save yourself a whole lot of time. Low-maintenance landscaping lets you get out of the yard and get back to doing what you love — without sacrificing your yard's curb appeal.

To make lawn and landscape care easy, hire a lawn care pro in Columbus to mow your grass and add native plants or create your rain garden for you.
Main Photo Credit: Jay@MorphoLA | Flickr | CC BY 2.0
Jordan Ardoin
Jordan Ardoin is a writer and editor with a passion for sustainable, earth-friendly gardening and lawn care practices. When she isn't sharing her knowledge about lawn care and landscaping, you can find her curled up with a good book and a cat in her lap.