Are you looking to gain customers for your lawn care business? Whether you are a brand new company or you've been in business for a while, you can always benefit from new customers.

So how can you get more customers for your lawn care service? Where do you start when looking for yards to mow? Word of mouth is always a great place to start, but that only gets you so far. To attract customers to your business, you'll need to find new ways to market your company.

First, you'll need to establish a budget. If you are just getting started, start with free marketing strategies. There are tons of free marketing out there to utilize, so target those efforts first, and then establish a budget for advanced marketing later.

Be sure to craft a compelling elevator pitch so that you are prepared at all times to share your business and services whenever the opportunity strikes. Nowadays social media is a big marketing tool and can be very influential for your company to grow. The majority of new customers utilize social media and other online services to find businesses like yours. Below, we're sharing 28 tips to get more lawn mowing customers for your business, including tons of online marketing strategies.
1. Word of Mouth

Share your lawn care business with everyone you know. Tell your family, friends, co-workers, former colleagues, neighbors, local clubs, schools and anyone else you can think of that might need your services or know someone who could benefit from your services.

2. Referral Program

Offer your current customers a referral program where they receive a discount or other incentive for sharing your business with others. You can do this by merely telling them they can receive a discount on their next lawn care service if they refer a friend who uses your service.

3. Marketing

Create business cards, flyers, brochures, magnets or door hangers and distribute them in your neighborhood or local shops. If you want to take your marketing up a notch, knock on your neighbors' doors and introduce yourself and your company. This is a great way to build relationships with your potential customers, and they can put a face to the name.

4. Create a Website

Build a website for your business as a landing place for customers far and wide. Take photos of your work and share your pricing and location on your website.

5. Create a Google+ Account

A Google+ account is a great way for customers to leave their reviews about the services you provide. Not only is this an excellent platform for reviews, but also it's a great way to help your business show up in a Google search.

6. Google AdWords

Google AdWords is an online advertising platform where you can pay to display brief advertisements, service offerings, video content, product listings and more within the Google network to people online. This is a great way to drive traffic to your website or social media page if your budget allows.

7. Create a Facebook Business Page

Social media is one of the easiest ways to market and promote your business, whether it's big or small. Set up a Facebook business page as a way for people to easily find your business and communicate with you. Take advantage of this platform, since you can also share photos of your work and get reviews from current customers.

8. Facebook Ads

Consider advertising on Facebook. Create a budget and put together a Facebook ad that is both visually appealing and engaging. Monitor your results on a daily basis to see which ads are performing higher than others.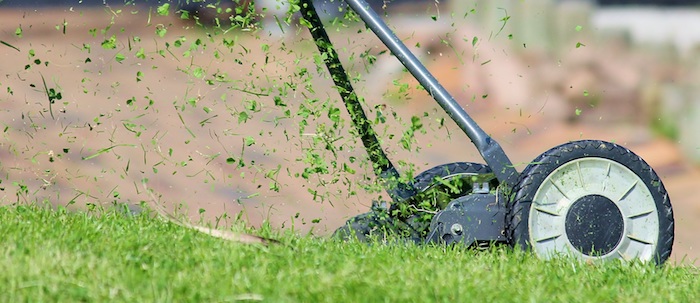 9. Social Media Channels

Don't just stop at Facebook, experiment with other social media channels too. Twitter and Instagram are great for promoting your business to new customers and getting your name out there. You can share lawn mowing tips, tricks, photos, blogs and more to build your brand and business profile. Network with other lawn care companies that are outside of your local area and share ideas and strategies together.

10. YouTube

If you truly want to stand out as a lawn care provider, starting a YouTube channel could be not only beneficial but also lucrative if you do it right. Millions of people are watching YouTube these days, so create videos that get people engaged, interested, and sharing. You could record tips on lawn upkeep, show viewers how to properly care for their lawn in the wintertime, etc.

11. Customer Service

Always be sure to listen and respond positively to your customers. Be genuine, authentic, honest and trustworthy. If your customer has a problem, solve it efficiently and promptly.

12. Partner with Companies

Find related home service companies that aren't in competition with your business, and exchange promotions. For example, a tree cutting service is a business that has customers who may also need their lawn cared for. Both of your companies can get new customers by referring your existing customers to the other company.

13. Contests and Giveaways

Why not host a giveaway? Advertise your giveaway or contest on social media, in your local newspaper or on your local radio station. An example of a great giveaway on social media could be to share your business page and tag their friends on a Facebook post you make, and they'll be entered to win a free grass treatment or whatever service you wish to give away.

14. Vehicle Advertisement

Drive a vehicle? Whether it's a company truck or personal vehicle, place your lawn care company's name and logo on it. In addition to your company name, be sure to include your phone number as well. This is free advertisement for your business and is a great way to gain exposure everywhere you go.

15. Advertise in Local Publications

Place ads in your local newspaper and community paper. You can offer coupons and free services to help get your business up and running and to help encourage potential customers to try your service.

16. Free Press Coverage

A lot of local news stations often have a business slot open for new and existing businesses who have something to offer to the community. Call your local news stations and see if they offer something for entrepreneurs. Come up with an interesting statistic, collect data or share a helpful tip that can grab viewers attention and don't forget to leave your email or phone number.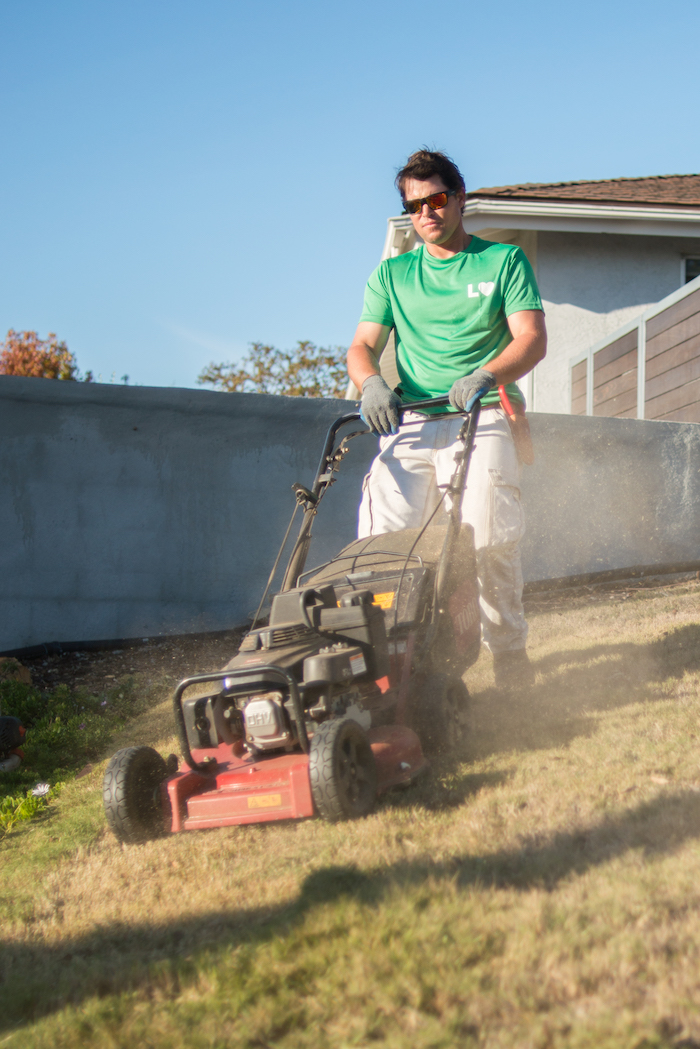 17. Follow-Ups

I'm sure you've heard the saying, "the fortune is in the follow-up," right? This could take some courage and time, but always follow up with your customers and ensure they are satisfied. If they are lost customers, find out why they canceled or no longer need your services. Use this as an opportunity to improve your customer service and to let your customers know you genuinely care.

18. Networking Events

People love doing business with people they know. Networking events are a great way to meet people and for them to learn more about what you do. You never know whom you may meet at these events, it could even be a company who would love to use your services. Also, not too many lawn care companies are out networking, so you most likely won't even have any competition!

19. Online Directory

List your business and phone number on various directories online. Such directories include Yellow Pages, Bing, Yelp, Foursquare and more. This can drive potential customers to you while you're busy at work. It also makes sense to get your local business information out to people who are already searching for services like yours.

20. Search Engine Optimization (SEO)

If you have a marketing budget, consider paying for SEO, which is the process of increasing the visibility of your website or page into search engines online. You can do this yourself if you're knowledgeable in this area or there are tons of qualified professionals who can offer their SEO services to you.

21. E-Mail Marketing

E-mails are a highly effective marketing tool to nurture leads and turn them into potential customers. Start by collecting e-mails. You can do this by obtaining the e-mails of your current customers, through free quotes or consultations, from your social media accounts or by offering online coupons where your customers enter their e-mail to redeem their coupon or discount.

Now that you have an e-mail list, you'll want to create engaging e-mails that will be viewed. Make your subject line stand out, personalize the e-mail, be authentic and write as if you're a friend instead of a company and create content that viewers will enjoy and read all the way through. Don't forget, always end your e-mails with a call to action. You want them to take additional action such as going to your website, giving your Facebook business page a "like," redeem a coupon they can use towards their next service or ask you for additional information like an estimate for example.

22. Leverage Your Community

When it comes to marketing efforts, think locally. Sponsor a local little league sports team and use your business and logo as the team name and print on the shirts/uniforms. You can also sponsor a charity walk/run and market your business the same way.

23. Flyers, Brochures & More

Print out flyers and brochures to hand out to your local neighbors. Drop off flyers to your local restaurants, bookstores, coffee shops, and salons. Think outside the box when it comes to print marketing. A few examples include giving out bookmarks with your local business information to your local libraries, creating magnets to place on mailboxes or creating key chains to put inside local event grab bags.

24. Approach Developing Neighborhoods

Many times, developing neighborhoods provide their new homeowners with a welcome folder. This folder usually includes local information such as restaurants, shops and more to welcome new homeowners to the area and share all that there is to offer around the community.

Market your business to these newly developed neighborhoods and see if you can slip in your flyer or brochure into their welcome packets. This is a great way to market yourself and start building new relationships and clients around your community.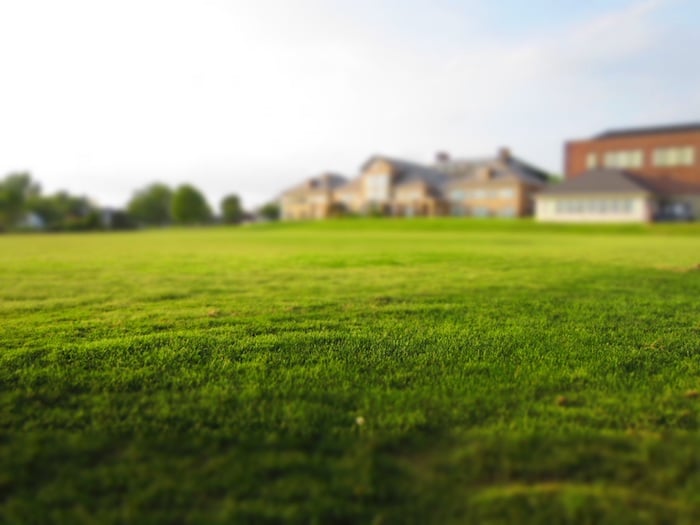 25. Create a Professional Commercial

Now, this marketing strategy is pricey, but the exposure is entirely worth it when looking for yards to mow. Create a commercial and run it on your local television stations. Putting yourself out there on a much larger scale can allow your business to stand out professionally.

26. Refresh Your Branding

If you've been in the business for a while, how does your branding look? Is your signage or logo looking outdated? Could your website use a revamp? It could be time to give your branding a refresher. Especially for millennials these days, it's all about "the whole package" when searching for a product or service.

Make sure your brand and logo are eye-catching. If you haven't already, now is also a good time to create a motto or saying or your company. For example, one lawn care company has the saying, "We don't cramp your style but your weeds." This kind of humor gets people talking which is what you want for your business.

27. Prioritize Blogging

Blogging requires a bit of strategy and hard work, but you'll reap the rewards from your efforts in a variety of ways. Blogging for your business is a great way to keep your current customers informed. You can send weekly, bi-weekly or even monthly blog posts via e-mail or through social media to gain exposure and credibility. If you don't think you'll have the time to create blog posts for your business, you can easily outsource your blogging needs through various platforms.

28. Learn From Other Businesses

The key here isn't to replicate or copy other businesses marketing techniques, but instead, get inspired. See what other lawn care companies are doing to gain new customers and exposure and find ways you can incorporate those strategies into your marketing plan.

Feeling inspired? Now go out there and utilize these marketing techniques to generate new leads for your lawn care company. Build those relationships with both potential and current customers. Be the company that everyone wants to do business with. Best of luck with your lawn mowing business.