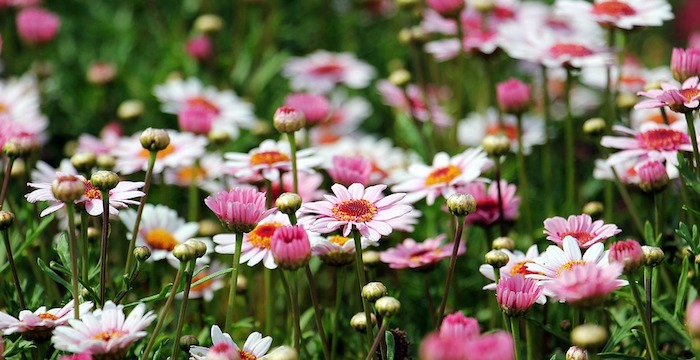 Spring has sprung – well, for the most part. There are many areas of the country under a blanket of snow right now, but winter has to have one last gasp before we say goodbye to it for good this year. In the meantime, use the frightful weather outside to start planning your spring garden. Spring is the perfect time to start a new garden project, so here are some helpful tips to get you started!
What's Your Idea?
If you're going to start a garden, then you have to start somewhere. Do you want a herb garden? What about a vegetable garden? Maybe a flower garden? No matter what garden you choose, it will take some solid planning.
For example, if you want to start a pretty flower garden, then you must decide if you want to plant annuals or perennials. Annuals will need to be replanted each year but bloom to perfection all summer long. Perennials, on the other hand, have a shorter bloom time but will come back faithfully year after year for you to enjoy. You can always mix the two, but whatever you choose needs to be planned out if you want to experience success.
Where Will Your Garden Grow?
The next thing to identify is where you want to plant your garden. Vegetable and flower gardens will almost always require six hours of full sun every day. So, pay close attention to the areas you're interested in planting your garden and look at how much sun they get each day.
If you have a largely sunless lot, then don't worry! You can still grow a garden; it will just need to be full of plants that can tolerate shade well. Plant tags or knowledgeable staff at your local garden center can certainly help you.
Get Your Garden Started
Now that you know what you're going to plant and where, you will need to clear the area by getting rid of the sod where you want to plant. This can be done a couple of ways:
Dig it up – The fastest way to clear the area is to dig it out, but it will require some serious elbow grease.
Smother it – You can use newspaper to smother the grass. Use a layer of five sheets to smother, but double that if you have St. Augustine grass or Bermudagrass. Spread compost or a combination of topsoil and potting soil on top of the newspaper and wait for about four months for the paper to decompose.
You will then want to prepare the soil. Do this by adding organic matter such as decayed leaves, compost, or dry grass clippings to the soil. Till the organic matter in or leave it on the surface if you can't till and let it work its way in for a while. It may be a good idea to test your soil to see if you need to add more or less of certain nutrients in order to create a good home for your plants.
Time to Plant!
Now it's time to pick your plants out and get them in the ground. You may want to try some easy to grow plants that are best for first-time gardeners such as:
Cosmos
Impatiens
Marigolds
Geraniums
Sunflowers
Zinnias
Black-eyed Susan
Coneflowers
Phlox
Daylilies
Pansies
Peppers
Lettuce
Cucumbers
Tomatoes
Once you know what you're planting, it's time to actually plant them – but not until you're sure it's not going to frost again. Many plants will die if they encounter frost. Mid-spring is a great time to get going, and your local garden center should be able to give you a more precise list of dates for planting.
Now that they're planted, water them frequently – at least every other day. Once the roots are established, you should slowly and deeply water plants when needed. Early morning is usually the best time.
That's about it – you're a bonafide gardener! Just remember to keep watering and pulling weeds as needed to support healthy growth. You can also use dry fertilizer about halfway through the growing season to support the garden or use liquid fertilizer about once a month.
Just remember to take the time to stop and smell – well, whatever it is you are growing.
Sara Butler
Sara Butler has written scores of articles for Lawn Love -- everything from how to revive your dead lawn to how to start to lawn care tools every homeowner should have.