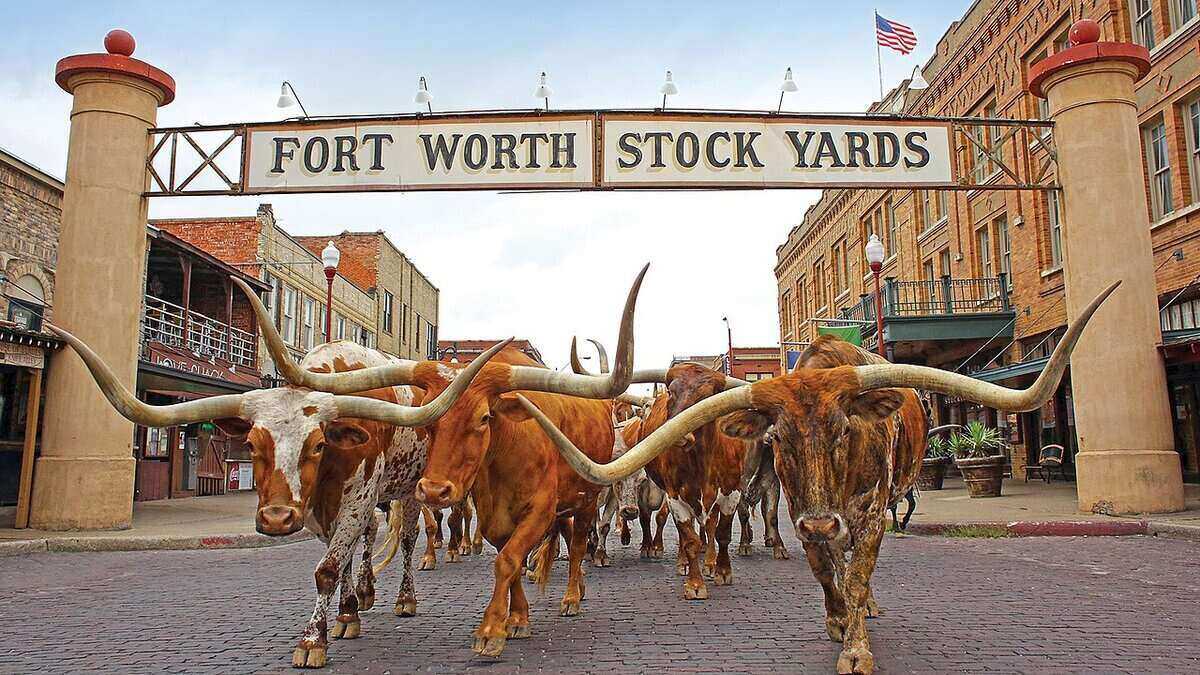 Which grass types are best for Fort Worth? According to Texas A&M, three types work well:

Bermudagrass
Zoysiagrass
Tall fescue
Here are a couple reasons why these are the best grass types for your lawn:

Both cool- and warm-season grasses work well in Fort Worth.
Both types may not be ideal for your lawn, so take time to read over each species carefully to choose the one that works best for your lawn.
1. Bermudagrass
Bermudagrass is a popular warm-season grass that is ideal for a full-sun, high-traffic yard. It is not only popular in home lawns but is used along roadsides and on golf fairways, tees, and roughs as well.

Bermudagrass comes in common and hybrid varieties. If you're unsure which variety is best for your lawn, contact a local Cooperative Extension agent for advice.

Classification: Warm-season grass
Spreads by: Stolons and rhizomes
Shade tolerance: Low — only plant in full sun
Drought tolerance: High
Foot traffic tolerance: High
Maintenance needs: One inch of water per week. May need to be mowed twice per week during peak season. Fertilize every month during the summer.
Mowing height: 1-2 inches
Potential for disease: Low
Other notes: Bermudagrass is available in a different varieties. Keep in mind that not all of these varieties are available to purchase commercially. Consider the level of maintenance as well. Hybrid varieties are more often used for sports turf and will require a higher level of maintenance than a common variety.

2. Zoysiagrass
In general, zoysiagrasses have a high tolerance for drought and traffic. So, if your area is subject to watering restrictions or you like to play badminton on the lawn, this may be a grass type to consider.

Even though it is very tolerant of traffic, its slow growth pattern means it may be slow to recover from extra-heavy use. But as long as you're not using your lawn as a soccer field, this grass should hold up just fine.

Finally, zoysiagrass contains a diverse group of turfgrasses that have a varied range of characteristics. If you are interested in this species, be sure to do your research to find the best variety for your lawn.

Classification: Warm-season grass
Spreads by: Stolons and rhizomes
Shade tolerance: Moderate
Drought tolerance: Moderate to high – depends on the variety
Foot traffic tolerance: High
Maintenance needs: A slow grower, so plan to mow about once per week. This grass has a low fertilization requirement: 1-3 lbs. of nitrogen per 1,000 sq. ft. per year.
Mowing height: 1-2 inches
Potential for disease: Low to moderate
Other notes: Zoysia produces a dense stand of grass, almost like a carpet. Ensure your mower blade is sharp for the best cut.

3. Tall fescue
Tall fescue has a limited range in Texas but works well for the northern areas of the state, including Fort Worth. It stays green in the winter and is moderately tolerant of shade.

This grass may need extra watering during summer or periods of drought and may go dormant during the summer months. Look for "improved" or "turf-type" tall fescue varieties for the best performance.

Classification: Cool-season grass
Spreads by: Depends on the variety — most are bunching, but some have short rhizomes.
Shade tolerance: Moderate
Drought tolerance: Low
Foot traffic tolerance: Moderate to high
Maintenance needs: Follow the one-third rule: Don't remove more than one-third of the blade per cut. Plan to mow once per week.
Mowing height: 2.5-4 inches
Potential for disease: Moderate to high
Other notes: May thin during periods of high heat. If so, you may need to re-seed annually.
How to select the best grass type for your lawn
Don't put these three grass types in a hat and pull out one at random to make your decision. Consider what other characteristics you're looking for in a grass species:

Does your lawn have shade?

Zoysia and tall fescue can handle some shade; bermudagrass must have full sun.

Is your area susceptible to drought or watering restrictions?

Bermuda has the best drought tolerance of these three grasses. Tall fescue does not hold up well under drought.

How much foot traffic does your lawn receive?

All three grass types have a moderate to high tolerance for foot traffic..

Do you want a high-maintenance or low-maintenance lawn?

Zoysia has the lowest level of maintenance and care while bermuda and tall fescue require more mowing or disease control.
If you'd rather leave your lawn care to the pros, we've got you covered. Contact one of our Fort Worth lawn care professionals to mow, install new grass, maintain flower beds, or take care of any other lawn chore that needs to be done.
Main Photo Credit: Briaande | Wikimedia Commons | CC BY-SA 4.0
Sarah Bahr
Sarah is a writer who has previously worked in the lawn care industry. In her spare time, she likes to garden, raise chickens, and mow the grass with her battery-powered lawn mower.