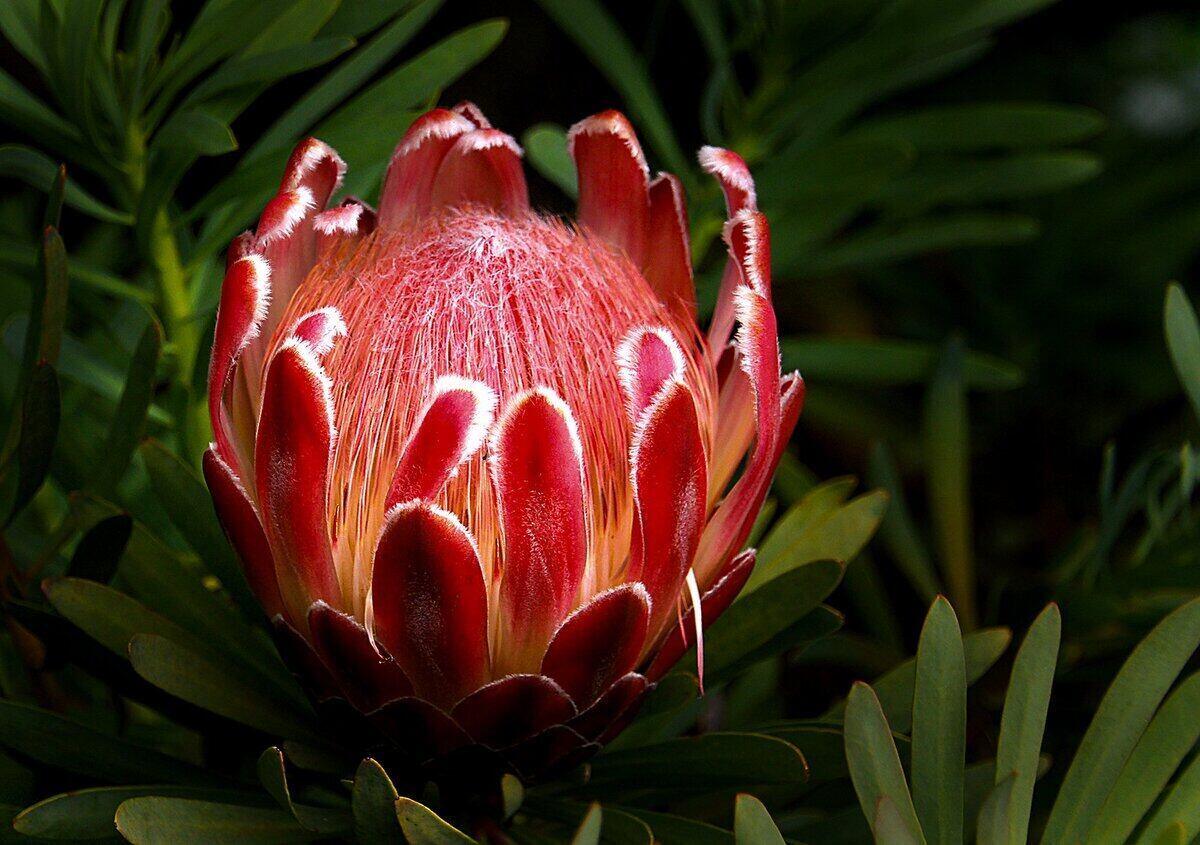 San Diego is known for beautiful scenery, a stunning coastline, and professional sports teams, but "America's Finest City" has its share of attractive native plants, too. The native flowers of San Diego draw birds, butterflies, and bees to backyards and landscapes.
Advantages of San Diego's native plants:
Environment – Native plants adapt to San Diego's climate, weather patterns, and soils. They need less water and can survive droughts.
Fire-resistant – Succulent plants like cacti, agave, and aloe vera protect themselves from the heat and potential wildfires.
Easy to care for – San Diego's native greenery is well-adapted to the city's dry Mediterranean climate.
Choosing Plants for your San Diego Yard
Pretty plants and flowers are easy to find, but because San Diego is in USDA Plant Hardiness Zones 8a through 10b, the right greenery depends on whether it can handle hot and dry climates.
Check out these attractive shrubs, vines, and flowers for your backyard.
1. Salvia
Woody shrubs, annuals, biennials, and perennials — salvia blooms in shades of blues, purples, reds, pinks, and whites. All varieties produce long flower spikes and are heat-tolerant.
If you want to attract butterflies and other pollinators, salvia is a perfect choice. Blossoms appear in late spring to early summer and may continue blooming through early fall.
Plant type: Perennial
Hardiness zones: 7b-11
Sun: Full sunlight to partial shade
Water needs: Water regularly; do not oversaturate
Soil: 6.1 to 6.5 (mildly acidic), 6.6 to 7.5 (neutral), 7.6 to 7.8 (mildly alkaline)
Duration: Seasonal
Mature height: 18 inches to 5 feet tall
2. Protea 'pink ice'
Drought tolerant and suitable for xeriscaping, Protea 'pink ice' is an evergreen shrub growing 6 to 8 feet tall and 4 to 6 feet wide. Pink blooms and sweet nectar lure the bees and butterflies, and birds will snuggle into branches for nesting. Flowers bloom in late spring through mid-autumn.
'Pink ice' tolerates most soils, enjoys bright sunshine, and is drought-tolerant once the roots are firmly established.
Plant type: Shrub
Hardiness zones: 9a-11
Sun: Full sun
Water needs: Drought tolerant
Soil: Acidic, free-draining soil is ideal. Sandy and loamy is best.
Duration: Evergreen
Mature height: 8 feet tall
3. San Diego sunflower (viguiera laciniata)
The San Diego sunflower is a flowering perennial shrub growing mostly in southern San Diego County. It blooms in most months of the year.
When planting your backyard or front landscape, combine San Diego sunflowers with other native plants — penstemon, salvia, trichostema, and the like — for a stunning display of color. San Diego sunflowers are hardy plants that tolerate drought and sandy soils. They thrive in full to partial sunlight. Water regularly as needed but do not let water pool around the roots.
Plant type: Perennial
Hardiness zones: 9-10
Sun: Full sun to partial shade
Water needs: As needed
Soil: various
Duration: Perennial
Mature height: 1 to 1 2/3 tall
4. Aloe vera and other succulents
Aloe vera is only one type of succulent plant that thrives in the xeriscapes, gardens, and flowerbeds of San Diego, but you can create a visual oasis with a variety of greenery. With plump fronds, stems, and roots that store water, succulents withstand drought, add a sculpted texture to the landscape, and just scream out "California!"
Fill your landscaping with aloes, agave, echeveria, euphorbia, sedums, and a few spiny cacti. The warm and dry climate of San Diego helps these plants produce clusters of colorful flowers, but they do not need a lot of water.
Aloe Vera plants are very prolific: They will shoot off sprouts that you can replant outside or in containers.
Plant type: Evergreen succulent
Hardiness zones: 8-11
Sun: Full sun
Water needs: Low, occasional
Soil: Well-draining, loam mixture, pH 7.0-8.5
Duration: Up to 12 years or more
Mature height: Varies
5. Penstemon spectabilis
With tubular flowers on spiky stems, penstemon spectabilis is noted for blue, purple, red, pink, and white florets. Also called 'royal beard tongue,' the plant grows up to 4 feet tall and just as wide. Native to Southern California and often seen in San Diego gardens and neighborhoods, this regal perennial grows best when planted in autumn so it can bloom the following spring.
Hummingbirds love the sweet nectar from penstemon, which also draws bees and butterflies to your yard.
Plant type: Perennial
Hardiness zones: 8-11
Sun: Full
Water needs: Every three to four weeks, if needed
Soil: Chalk, clay, loam, sand
Duration: Varies, self-seeds
Mature height: 2-4 feet
6. Anacapa island pink morning glory (calystegia macrostegia)
The name is a mouthful, but this climbing vine grows up to 30 feet high and looks nice on trellises, pergolas, posts, and chain-link fences. Also known as Calystegia 'Anacapa Pink,' the leafy green vine thrives in full to partial sunlight and doesn't need much water. Fragrant pale pink blooms trail along to brighten up your landscape. Anacapa Island pink morning glories attract bees and butterflies, they also make nice groundcovers.
As with most perennial vines, pruning the plant in winter controls the spread, and encourages them to sprout new stems and flowers in the spring.
Plant type: Vine, perennial
Hardiness zones: 10a-11
Sun: Full to partial shade
Water needs: Once weekly, if needed
Soil: Sandy or rocky, pH 6.0-8.0
Duration: Seasonal
Mature height: Spreading, up to 30 feet
7. California fuchsia (epilobium canum)
California fuchsia is a perennial native to the foothills and coastal areas, producing bright red-pink flowers in summer and fall. Fuchsia usually dies back and goes dormant in the winter, but it will be blooming around your San Diego home for many years to come.
California fuchsia is called the Hummingbird Flower for a good reason — the tiny birds flutter to its bright colors and enjoy sipping the blooms' sweet nectar. Easy to grow, plant California fuchsia in full sunlight and water it once a month if there's no rain.
Plant type: Perennial shrub
Hardiness zones: 8-11
Sun: Full sun to partial shade
Water needs: Occasional, after establishing
Soil: Well-draining, sand, and grit
Duration: Ongoing
Mature height: 1-2 feet
8. Orchids
With so many species of orchids growing in warm climates, San Diego has a few native flowers to add to your landscape. For a perennial that blends in well with other colors, striped Bletilla (Bletilla striata) doesn't have sharp solid bands, but variations in the pattern float softly over white flower petals. This perennial needs to be watered regularly — take care not to drown the roots.
Leafy green, soft foliage lights up Bletilla in spring, summer, and fall. Blooming from mid-spring to late summer, these orchids propagate by rhizomes, bulbs, and tubers.
Plant type: Perennial
Hardiness zones: 8b–10b
Sun: Light shade
Water needs: Water regularly but don't oversaturate. Do not let soil dry out
Soil: pH 5.6 to 7.5
Duration: Propagation
Mature height: 12-24 inches
9. California monkey flower
Don't let the name fool you, California Monkey Flowers don't really look like smiling simians, but the genus Mimulus is from the Latin "mimus," a comic actor or mime. Related to snapdragons, monkey flowers draw hummingbirds and other nectar-loving critters.
From spring through summer, monkey flowers blossom in rose, peach, white, and yellow, and are about 1.5 inches wide. Common names are San Diego Monkey Flower, Red Bush Monkeyflower, and Mission Diplacus.
Plant type: Perennial herb
Hardiness zones: 9a-11
Sun: Full sun to partial shade
Water needs: Occasional watering, do not oversaturate
Soil: Well-draining, sandy soil; pH 6.0-8.0
Duration: Varies
Mature height: 2 feet high, 3 feet wide
10. Seaside daisy (erigeron glaucus)
The simplicity of the seaside daisy brings soft hues to your San Diego landscape. Native to dunes, beaches, and coastal bluffs, seaside daisies spread with bluish-green foliage and flowers that bloom in winter to summer with little or no water. Create a xeriscape with these perennial evergreen herbs; they fit next to borders, along paths, in rock gardens, and in front of shrubbery.
Seaside daisies germinate by seed making them easy to plant. Lavender-white flowers bloom from January through August. Certainly unexpected, but IF the temperature ever drops below freezing, seaside daisies will survive. Pinch off dead blooms.
Plant type: Perennial herb, evergreen
Hardiness zones: 8-10
Sun: Full sun to partial shade
Water needs: Once a week in dry weather
Soil: Sandy
Duration: Perennial
Mature height: 1 foot high, 2 feet wide
Native plants are the way to go
Make it easier on yourself by planting native flowers, shrubs, trees, and ground covers. Not only do they attract birds, butterflies, pollen-carrying bees, and wildlife to provide food and nesting resources, but native plants promote biodiversity and protect groundwater. The best part? Native plants are low maintenance, leaving you more time to enjoy your San Diego home.
Want to make your landscape even lower-maintenance? Hire a local San Diego landscaping pro to create the yard of your dreams.
Main Photo Credit: Bernard Spragg. NZ | Flickr | CC0 1.0
Teri Silver
Teri Silver is a journalist and outdoor enthusiast who spends her weekends mowing her 5-acre lawn and puttering around in 3 gardens. The best parts of the year are summer and fall, when home-grown veggies are on the dinner table.