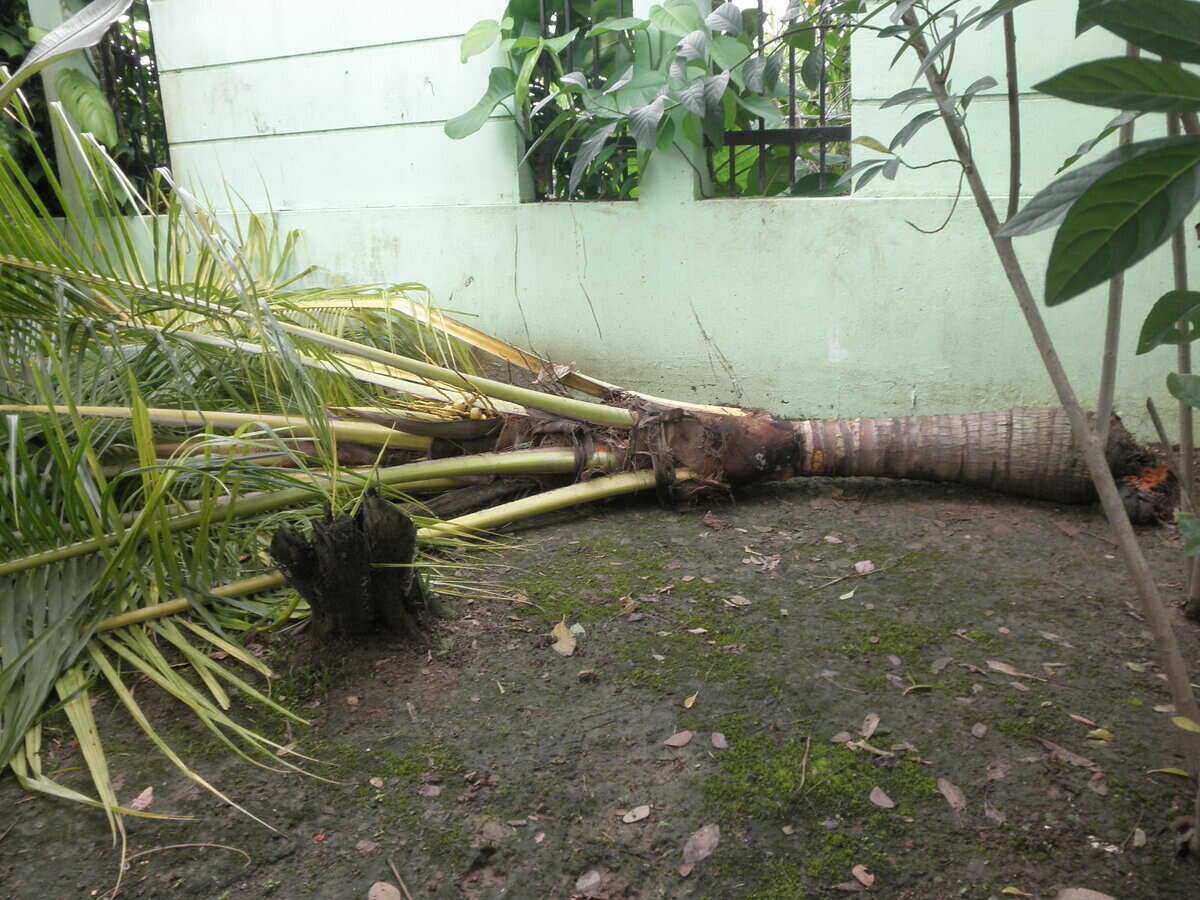 Captain Fear may know how to batten down the hatches, but he could probably use a little help with hurricane preparedness on terra firma. Here are a few tips to help land-bound buccaneers prepare for hurricane season in Tampa.

Why hurricane-resistant landscaping is important:
The weather in Tampa is predictably unpredictable. Summers are hot and humid, and from June 1 to Nov. 30 everyone keeps one eye on the weather to see what the hurricane season will bring. The best antidote to worry is preparedness, and this list will help you think about the best way to prepare your landscape for whatever the high seas may bring.

A little forethought and a little knowledge will go a long way to help you have a home and landscape that can withstand Tampa's storm season.
1. Design is key
Landscape design is the first step in preparing your lawn for hurricane season. Even though most of us can't start from scratch, it is helpful to remember that design plays a role in the success and hardiness of our landscape.

The University of Florida's Institute of Food and Agricultural Sciences (UF/IFAS) created "The Nine Principles of Florida-Friendly Landscaping (FFL)." Their first principle is "Right Plant, Right Place." (We'll discuss "right place" in this point and move on to "right plant" in point number two.) This principle underscores the need for thoughtful landscape design in Florida lawns.

Here are a few points to ponder:
If your trees fell, what could they hit? Your home? Power lines? The road? Your neighbor's house?
What kind of plants do you have in your yard? What is their function?
Most of us plant ornamentals because they are pretty, but in hurricane-prone areas, it doesn't hurt to keep an eye out for how your landscaping will respond in heavy storms.

If you don't want to tackle such an endeavor on your own, professional landscape designers help homeowners plan their landscapes to be functional and beautiful.

Cost: Landscape designers charge an average of $3,298 to do design work for homeowners. Depending on the project, it may be much less, and some will do consults by the hour.
2. Plant native plants
Now we'll discuss the "right plant" piece of the first FFL principle. Florida native plants are ideal because they have lived in the Tampa area for thousands of years. Native plants are low-maintenance and some can withstand hurricane-force winds.

Native, wind-resistant trees:
Does not tolerate salt spray.
Sabal palm (aka cabbage palm) (Sabal palmetto) – Large tree
Tolerates brief salt water flooding and salt spray from storms.
Tolerates brackish environments but not salt spray.
Tolerates brackish water flooding but not salt spray.

Native plants:
These plants are not necessarily wind resistant but are well adapted to the Tampa/Hillsborough area.
Butterflyweed (aka orange milkweed) (Asclepias tuberosa) – Flowering plant
Not salt tolerant.
Tolerates rare salt spray during major storms.
Marlberry (aka Marbleberry) (Ardisia escallonioides) – Shrub
Tolerates brackish water flooding but not salt spray.
Does not tolerate salt spray.

Native, salt-tolerant plants:
Cost: Expect to pay a landscaper $3.50-$15.50 per square foot for plants and labor.
3. Manage your trees
In a hurricane, trees can be your best friend and help serve as a windbreak or be a destructive force that can fall on your house, power lines, or street. If you need to trim or prune your trees, consider hiring a certified arborist.

Here are a few hard-earned tips learned from past Florida hurricanes:

Plant trees in groups of five or more.
IFAS research has shown that trees planted in groups of five or more, planted within 10 feet of each other, had a higher rate of survival after major hurricanes.
Palm trees, as a species, have an excellent hurricane survival rate.
Palm trees have a higher percentage of survival than other species, such as conifers and broad-leaved trees.

Cost: If your trees need trimming before hurricane season, you'll pay an average of $284-$770 per tree. On the low end, you may pay as little as $77-$93 per tree. Larger jobs may run as much as $1,140 – $1,394 per tree.
4. Mulch is marvelous
In short, when the wind starts to blow, you don't want to have objects on the lawn that can act as projectiles. Even though small stones are great for low-maintenance landscaping, they aren't helpful in high-wind situations. In your lawn, keep everything as "soft" as possible. As an alternative to stones in your landscaping beds, consider mulch or ground cover.

Mulch is soft, helps control moisture and weeds, and won't act as a harmful projectile during a hurricane or tropical storm. Ground cover also helps protect the soil from erosion and can help shade out weeds.

Cost: Plan to pay $23-$55 per person per hour in labor. There may be a disposal fee if they take the rocks away.
5. Good fences make good neighbors
There is no way to harness the wind, but you can reduce the likelihood that it will damage your fencing. Make sure the wind can go through the fence, or it's likely that the force of a wind gust will send your fence flying.

Rail fencing, chain-link fencing, or picket fencing is naturally wind-friendly. Solid fencing can be problematic. Some advocate removing a panel on two sides of the fence. Others say to reinforce the posts with concrete or similar material or buy brackets to screw the posts and panels together. Ask a local contractor for the best practices in your area.

Fencing tips:
Another reason to trim your trees is to avoid damage to your fencing.
Do a check on your fence posts before and after storms. Make sure they're secure.
Experts have differing opinions on what to do about the fence gate. Some say make sure it's closed. Others advise removing it and storing it in the garage.
Cost: New fencing averages $1,197-$6,105, depending on the material used and the size of the area.
6. Check the lawn for drainage
Managing large amounts of rain in a short period is a major concern for cities, developers, and homeowners in Florida. The more water homeowners can absorb in their lawns, the better. This decreases the amount of water and pollution that goes into city drains.

Here are a few things to consider:
Address any drainage problems ASAP (basement flooding or pooling water, for example).
Consider concrete alternatives. If you're building a driveway or patio, think about using pavers, plastic grid systems, or porous concrete, or asphalt. These materials allow water to go through or around, which reduces runoff in your lawn.
If you have small areas of pooling water, determine if these could be resolved by planting a rain garden. Rain gardens are a good solution for small amounts of runoff from concrete surfaces.
Larger amounts of runoff require bioswales or ditches. A bioswale directs the water, filters pollutants through organic matter, and can be an aesthetically pleasing addition to your home.
Local stormwater experts may have additional ideas and solutions on how to manage rainwater on your property.

Cost: Home drainage installation averages from $1,709-$5,881.
7. Cut the grass
Is it really important to worry about cutting the grass when you're concerned about flooding and hurricane-force winds? Well, no. Not if you are having to evacuate or stock up on last-minute supplies.

But you'll know about the storms in advance, and in Florida, you'll likely be mowing at least once per week anyway. Keeping up with your regular mowing schedule keeps the lawn neat and tidy and prevents a bigger mess once you're doing your post-storm cleanup.

Cost: Plan to spend $30-$77 per hour or $26-$72 per mow.
Plan ahead before a hurricane hits Tampa
Hurricane preparedness is part of life for Floridians. If your landscaping is sound and healthy, most of these tips are part of regular maintenance and aren't something extra you have to do.

Spend some time thinking about the condition of your lawn as a starting point:

Do you have healthy trees, or are they in danger of hitting your house or power lines?
Do you have any pressing drainage issues in your landscape (flooding, pooling water, etc.)?
Ahoy, mateys! If you prefer to spend your time sipping rum or geocaching for lost treasure, call one of our swashbuckling Tampa lawn care pros today. They are true landlubbers who can take care of your routine lawn maintenance and make sure your landscaping is hurricane-ready.

Main Photo Credit: Jason Thien | Flickr | CC BY 2.0
Sarah Bahr
Sarah is a writer who has previously worked in the lawn care industry. In her spare time, she likes to garden, raise chickens, and mow the grass with her battery-powered lawn mower.