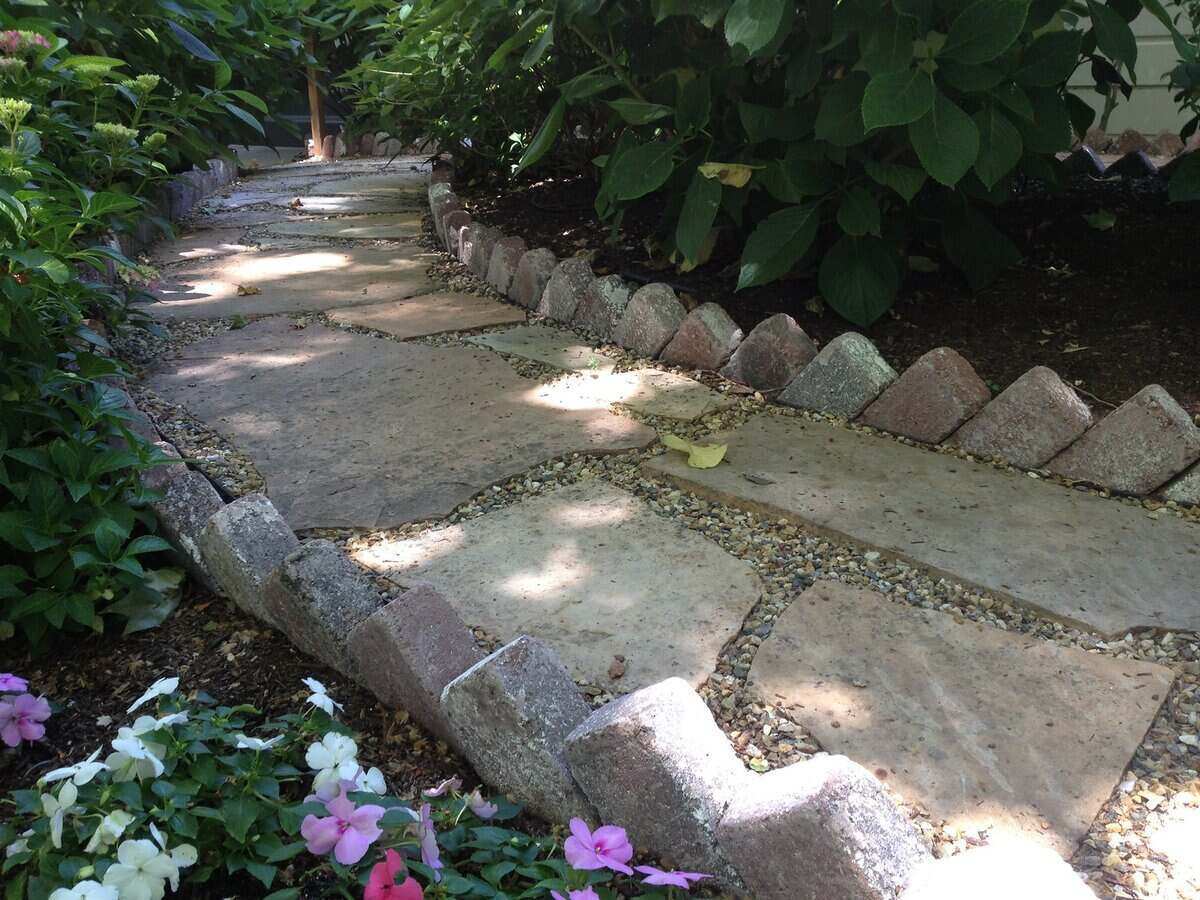 Surprising the family with a trip to the Wizarding World of Harry Potter sounds a lot more appealing than spending your weekend pulling weeds and mowing grass. With these low-maintenance landscaping ideas for Orlando lawns, you can spend your days riding theme park rides instead of riding your lawn mower.

These nine low-maintenance landscaping ideas for Orlando will help make yard work so breezy you'll think it's magic:

1. Build a xeriscape
"Xeriscape" is not a spell, we promise. The Denver Water Department coined the term in 1981 by combining "landscape" with the Greek word "xeros," which means "dry."

A xeriscape (pronounced "zeriscape"') is a landscape design requiring little to no irrigation. If you design a xeriscape just right, the natural rainfall levels should be enough to keep the plants thriving.

A xeriscape typically replaces grassy areas with textured mulches and drought-tolerant plants (succulents are a great choice). What this means: Not only will you have to water less frequently, but you'll have less grass to mow, too.

Pro Tip: To lower a xeriscape's maintenance even further, grow drought-tolerant native plants. They won't require much watering, and they won't need fertilizing or pest control either.

Advantages of a xeriscape:

Helps conserve water
Lowers your water bill
Eliminates the need for harmful fertilizers, pesticides, and excessive watering
Less grass to mow
A xeriscape's mulch helps prevent weed growth
Cost: On average, homeowners typically spend between $8,737 to $22,226 to install a xeriscape. Keep in mind this price will vary depending on the scope of your xeriscaping project.
2. Grow native plants
Do the plants in your garden require constant care? If so, then you might be growing non-native plants.

Lower your landscape's maintenance by growing Florida native plants instead. Plants native to Orlando have adapted to our climate, soil conditions, and pests and disease.
Because they are so accustomed to the local ecosystem, native plants don't need chemical fertilizers and pesticides to thrive. Their resilience makes them great for the environment and your wallet.

The University of Florida IFAS Extension recommends many native plants for the Florida gardener, including:

Black-eyed Susan
Beach sunflower
Beautyberry
Coral honeysuckle
Firebush
Muhly grass
Oakleaf hydrangea
Advantages of Florida native plants:

Native plants create a natural habitat and food source for local animals.
They have adapted to Florida's natural ecosystem.
They create a wildlife habitat in your backyard.
Native plants have evolved to resist many of Orlando's pests and diseases.
Native plants don't require pesticides and fertilizers to thrive, making them great for the environment.
You spend less money on fertilizers and pesticides when you grow native plants.
Cost: Interested in growing a flower bed with native plants? Most homeowners spend between $585 and $3,300 for professional flower bed installation. Price will vary by the size of the flower bed(s) and the plants purchased.
3. Plant perennials
Maintaining annual flowers in the landscape can be a headache. Why? Because you need to replant them year after year.

Unlike perennials, your blooming annuals won't be returning next season. That's because annual plants typically only bloom once. The Orlando gardener who grows annuals will spend much of their time digging in the soil and planting new bulbs each year.

On the other hand, perennials will bloom year after year. All you have to do is plant them once and then enjoy the exploding, colorful foliage in the peak bloom season. How's that for low-maintenance?

Advantage of perennials:

Only need to be planted once to return each year (as long as they are cared for)
Save you time on replanting and money spent on new plants each year
Deep root system improves the soil
Cost: Costs will vary depending on the perennial you buy. The initial cost is typically more expensive than an annual, but it's a long-term investment worth making. Buying annuals year after year will eventually cost more than a perennial's original price.
4. Harmonize with hardscapes
Hardscapes are structures built into a landscape, such as a patio, retaining wall, or walkway. Hardscape materials often include rock, brick pavers, and concrete.

Hardscapes add beauty to your yard, and they also eliminate grassy areas that need fertilizing and mowing.

Hardscapes also are easy to maintain. Just wash them down with a hose or pressure washer once a year to get them sparkling clean.

Advantages of hardscapes
Decrease the amount of high-maintenance grass in your yard
They often serve a useful purpose. Examples: Patios create space for entertaining, retaining walls prevent erosion, and walkways protect plants from foot traffic.
Boost curb appeal and increase your home's value
Easy to maintain
Cost: Hardscape installation prices vary depending on the project. For example, installing a patio costs most homeowners between $2,127 and $6,500. On the other hand, installing a retaining wall typically costs between $3,622 and $9,582.
5. Spread mulch
Isn't mulch just one more thing to maintain? Despite its initial application and the occasional replacement, mulch can significantly reduce maintenance in your yard. Your flower beds will gain a health boost, the soil will retain moisture better, and you won't need to pull as many weeds.

There are two types of mulches you can apply: organic mulch and inorganic mulch.

Inorganic mulches, such as rocks or gravel, are very low-maintenance. Inorganic mulches aren't plant-based material, which means they won't decompose like organic mulches. Apply them to your flower beds once, and don't worry about replacing them.

Downsides of inorganic mulches? Inorganic mulches don't add nutrients to the soil, they can sink into the ground and make future planting difficult, and sometimes the sun makes inorganic mulch too hot for plants.

Organic mulches require a bit more maintenance than inorganic mulches. Organic mulches will decay over time, so you'll need to replace them about once a year. A significant advantage organic mulches have over inorganic mulches is that they add nutrients to the soil and boost plant health.

Advantages of mulch
Prevents soil erosion
Regulates soil temperatures
Limits weed growth
Conserves moisture, which means less watering
Organic mulches add nutrients to the soil
Adds color and beauty to your yard
Cost: Mulch prices vary depending on the type of mulch. For example, wood chips cost around $70 per cubic yard and bark mulch costs around $65 per cubic yard. Some mulch is even free, such as newspaper, leaves, and pine needles found in the backyard.
6. Party in an outdoor living space

An outdoor living space, such as an outdoor kitchen, dining area, or cozy fire pit, lowers the amount of greenery that needs your attention without sacrificing a spacious yard.

Outdoor living spaces add curb appeal, too, which often improves your home value. And outdoor living spaces are the ultimate in low maintenance. A charming gazebo in the front yard can replace that high-maintenance flower bed.

Advantages of outdoor living spaces
Can replace high-maintenance vegetation
Add a useful feature to your yard
Boost curb appeal and the value of your home
Encourage family time outdoors
Cost: Outdoor living spaces vary in cost. For example, gazebos typically cost $4,828 to $9,930, while the cost of a pergola often ranges from $1,994 to $9,855. For an outdoor kitchen, most homeowners typically spend between $4,551 and $19,000.
7. Grow a container garden
If you've always wanted to grow vegetables but couldn't bear the thought of tending to a traditional garden, then consider a container garden instead. Container gardening is an excellent low-maintenance DIY project perfect for beginner and advanced green thumbs.

And no need to hide your container garden in the backyard. Instead, show off your favorite containers –– big or small –– on your porch, by the front door, or near the driveway. Your container garden can feature plants of all kinds, including:

tomatoes
small trees
flowers
boxwoods
colorful crotons
Advantages of a container garden:
Containers can add colors, shapes, and patterns to the landscape
Portable. You can move the containers around your yard — or inside when it turns cold
Position your container garden so that you don't need to bend or strain your back when harvesting veggies
Less hassle with weeds and pests than a traditional garden
Cost: Container gardening doesn't have to be expensive. A packet of seeds can cost as little as 50 cents. One cubic foot of potting mix averages around $14.73 per bag. The real cost variable is the material you use to build your container garden, or the cost of the ceramic or other pots that will contain your plants.
8. Plant ground covers
Reduce your mowing chores by replacing turf areas with ground covers.
What is a ground cover? A ground cover is a low-growing plant that spreads horizontally over the ground. The grass in our yards is technically a ground cover, but most ground covers don't need routine mowing.

Grow ground covers in the shade, full sun, and those hard-to-reach places in the yard. These plants bring beautiful textures and colors to open spaces, under trees, and in the garden.

Pro Tip: Make sure to carefully select your ground cover, as some ground covers are invasive. For example, despite Lantana camara's beauty, this non-native plant is invasive and not recommended by the University of Florida IFAS Extension for Central, North, or South Florida.

Popular Florida-friendly ground covers include:

Asiatic jasmine
Azaleas
Blue daze
Cast-iron plant
Perennial peanut
Sedum
Advantages of ground covers:

The right ground cover can be easy to maintain
Excellent grass replacement
Add a splash of color and texture to the landscape
Cost: Landscaping projects typically range between $4.50 to $26 per square foot. The total cost for replacing grass with a ground cover will depend on how much grass you remove, obstacles in the landscape, and which ground cover you plant.
9. Install an automatic irrigation system
Have you ever avoided vacation because you've had to stay home and lawn-sit? After all, a lawn isn't going to water itself.

Lift the burden of watering your lawn with an automatic irrigation system. This advanced system is programmed to automatically target yard areas with a precise amount of water. So while you're off buying your kids magic wands in Diagon Alley, your irrigation system will turn on as soon as moisture levels are low.

And don't worry: If it rains, most automatic systems know not to overwater!

Advantages of automatic irrigation systems:

Save water, time, and money
Accurately meet your lawn's water needs
Ensure an even water distribution
Turn on when water levels are low
Cost: On average, installing an irrigation system ranges between $2,285 and $5,250.
Keep your Orlando lawn low maintenance
Low-maintenance landscaping saves you time, conserves water, and gives your muscles a rest. So why spend your weekends mowing, weeding, and fertilizing when you and your loved ones could be enjoying Florean Fortescue's Ice-Cream at Universal Studios?

The key is to create a drought-resistant landscape that features native plants, ground covers, more hardscapes, and less grass. The whole point is to landscaping that doesn't keep you on the lawn mower.

Want to go completely maintenance-free? We hear you. These nine low-maintenance ideas for your Central Florida yard will save you time, but hiring an Orlando lawn care pro means your yard work magically goes away.
Whether it's building your new xeriscape, planting ground covers, or mowing the lawn, a lawn care pro has got you covered. Instead of pushing a lawn mower or pulling weeds, you and your family can play quidditch in your backyard.
Main Photo Credit: btwashburn | Flickr | CC BY 2.0
Jane Purnell
Jane Purnell is an artist, writer, and nature lover. She enjoys teaching readers about the importance of eco-friendly lawn care, integrated pest management, biodiversity, and sustainable landscaping.