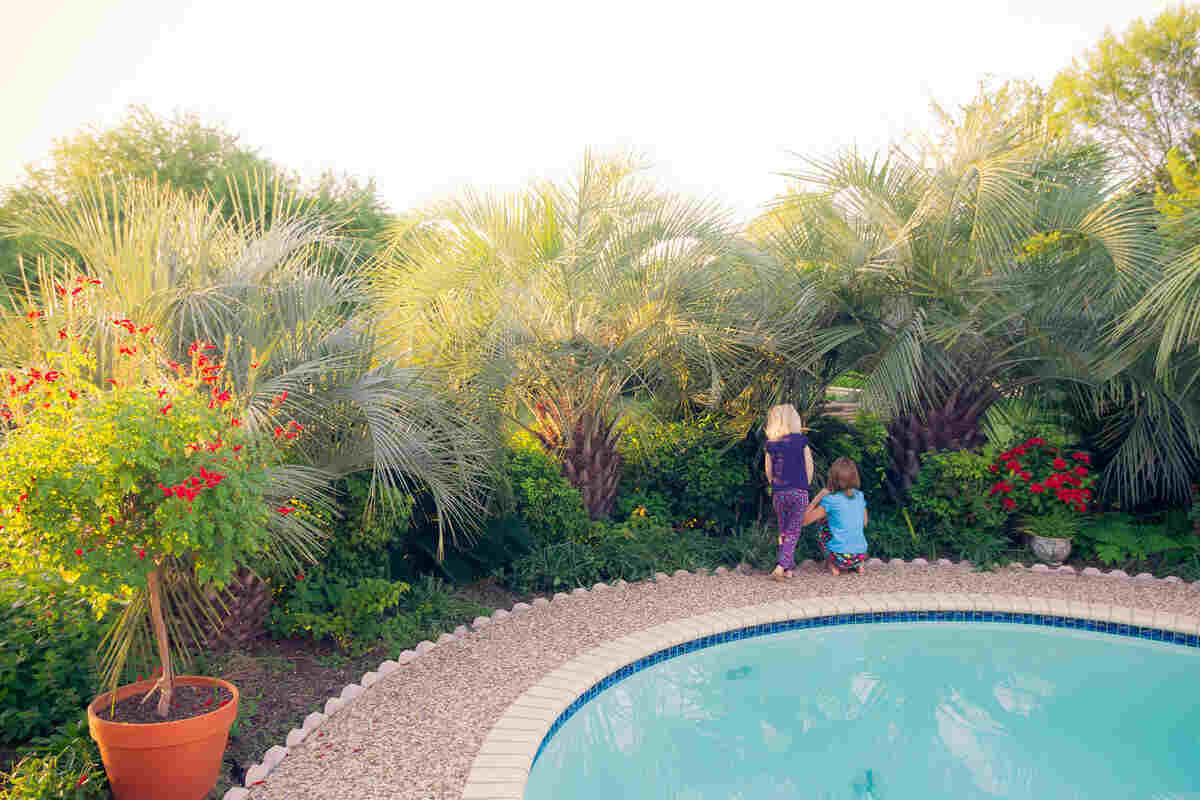 If you'd rather be exploring the Natural Bridge Caverns or kayaking along the river instead of slaving away in your yard, implement some of our low-maintenance landscaping ideas for San Antonio yards. You'll have more free time to get out and enjoy all that San Antonio and New Braunfels have to offer.

Oh, and what's the ultimate in low-maintenance landscaping? Let someone else, namely a San Antonio Lawn Love pro, handle all your yard work for you.

1. Say goodbye to grass
Removing some of all of your yard's grass — we at Lawn Love hope you don't go this route, of course — is becoming a popular way for busy homeowners to take chores off their weekend to-do list. Less grass, means less mowing, edging, and blowing of your lawn.

But what could you put in place of your grass? Xeriscaping? Native plants? Mulch? Rocks? You can create your dream low-maintenance landscape. The only limits are how much time and money you want to invest.

We'll talk about all of the creative low-maintenance San Antonio landscaping possibilities in this article, but first, you'll need to rent a sod cutter or hire a local lawn care professional to remove a large area of grass. If you're removing a small patch of grass, you can use a manual sod cutter.

Advantages of removing grass:
Reduce seasonal watering
Work with San Antonio's stony landscape, not against it. Even if you enjoy tending to your grass, you may have a hard time growing it in San Antonio's thin soil. Many homeowners have to add at least 6 inches of topsoil before they can plant grass in their yard.
Reduce or eliminate mowing time
Spend less time on weekly lawn chores
Approximate cost: Home improvement stores rent sod cutters for around $67 for four hours with a $150 deposit. A hand-held sod cutter tool costs between $65-$70. If you plan to hire out the job, plan to pay around $1.50 per square foot to remove and dispose of the old grass.

2. Make it natural with native plants
Native plants have become more popular with homeowners as they realize the advantages native plants provide.
In a nutshell, native plants save you time because they don't require you to fuss over them, they save you money because they usually require very little or no watering or fertilizer, and they often make a great shelter or food source for local wildlife. Native plants are a win-win.

Native trees: Eve's necklace, Mexican buckeye, and Texas persimmon are smaller trees (under 25 ft.) that are native to San Antonio.

Native flowers: If you'd like to add some color to your flower beds, American basketflower is a showy annual with light pink-purple petals. Englemann's daisy (perennial) puts out bright yellow blooms during the summer months.

Native shrubs: Black dalea is extremely low-maintenance and blooms from late summer through fall, which is great if you need late-season color. The dwarf palmetto is a classic small palm that gives a native, desert feel to your home landscape.

The Native Plant Society of Texas has compiled a list of native trees, shrubs, flowers, and other native options for your lawn.

Advantages of native plants:
Low maintenance costs
Low water usage
Provides food and shelter for wildlife
Suited for your environment
Approximate cost: Landscaping costs run from $3.50-$15.50 per square foot for labor and materials.
3. Get adventurous with xeriscaping
Xeriscaping (pronounced "zeriscaping") is a strange-looking word at first glance. "Xeri" comes from "xeros," a Greek word that means "dry."
What is xeriscaping? Xeriscaping is creating a landscape that requires little or no water and very little maintenance. The standout features in xeriscaping include pea gravel, cacti, and succulents. Other common elements are native plants for color and texture, mulch, hardscaping, and small sections of drought-tolerant turfgrass.

Think of xeriscaping as "landscaping smarter, not harder." Xeriscaping strives to create a beautiful lawn even if it doesn't include wall-to-wall green carpet. With xeriscaping, you can get a low-maintenance and water-wise lawn without sacrificing curb appeal, color, or function.

Advantages of xeriscaping:
Saves labor and time
Little or no supplemental watering
Saves the homeowner money
Approximate cost: If you want to xeriscape a large space, plan to hire a landscape designer or architect. A landscape designer charges an average of $3,298 for the design work, although some charge much less or do consultations by the hour. The labor and plants will run from $3.50-$15.50 per square foot.
4. Say hello to hardscapes
Hardscaping is any non-living surface or structure in your yard. For example, a fire pit, pergola, outdoor kitchen, or walkway is considered hardscaping. Hardscaping adds visual interest, function, and different textures to your outdoor living space.

Hardscaping is inherently low-maintenance. A patio, for example, may need to have the joint sand refreshed once per year. A bench or wood structure may need staining annually. A fire pit needs little or no maintenance except cleaning.

Hardscaping is a way to reduce grass, as well. If you remove a strip of grass, you can build a walkway of large flagstones and ground cover or pea gravel. Patios are another example of using hardscaping to replace grass and increase function in your yard.

Advantages of hardscaping:
Long-lasting
Hardscaping elements are usually functional, like fire pits, benches, patios, or pergolas
Adds another, non-living, dimension to the lawn
Approximate cost: Varies widely depending on the project. The average cost for a patio (installed) is $3,595. This can vary widely depending on the size of the patio and what materials you choose: A small, 80-square-foot patio may start at $576 while a larger, 400-square-foot patio may run to nearly $8,800.
5. Grow ground cover
Ground covers are a great, lower-maintenance alternative to grass. These plants stay relatively low to the ground and spread horizontally. Some ground covers, like horseherb, are a good grass replacement and can even be mowed. Other ground covers work well in beds, under trees, or as filler plants that spread and shade the ground.

If your lawn has steep slopes or lots of shaded areas, ground covers can help control erosion, and many work well in the shade. If planted near the base of trees, they can help prevent mower damage. Some ground covers work well in environmental extremes, including locations (or areas in the lawn) that are constantly wet or extremely dry.

Native ground cover: Horseherb (also called straggler daisy) puts out yellow flowers year-round if your area stays above freezing. You can even mow it and plant it as you would a grass. Heartleaf skullcap prefers the cooler weather of fall and winter and blooms in spring. Wood fern, also called river fern, is very drought-tolerant and works well in partial or full shade.

The Native Plant Society of Texas has compiled a list of native ground covers and other plants if you're interested in learning more.

Advantages of ground cover:
Low-maintenance alternative to grass
Costs little money or time to upkeep
Some species work well in shade
Approximate cost: Native ground covers are often available at local nurseries. If you'd like to install the plant yourself, your only cost is for the plant.
6. Mulch your trees
Mulch is often overlooked, but it provides a bevy of benefits to your landscape. For starters, it is very low-maintenance. Replace mulch yearly. If it looks sturdy after a year's time, you can freshen it with mulch paint and keep it around for a few more months.

Second, mulch adds a pop of color to your landscape. If you have grass, a red or black mulch will provide instant visual separation between the two areas.

Third, mulch is good for your trees and your soil. Mulching beneath your trees provides a visual barrier so that you are less likely to injure the roots as you mow or use the string trimmer. As the mulch breaks down, it provides organic matter to bolster your soil.

Advantages of mulching:
Adds visual appeal and color to the lawn
Protects tree roots from lawn mowers and string trimmers
Highlights features present in the lawn
Approximate cost: Plan to spend $39-$71 per hour for labor. Mulch costs $15-$75 per cubic yard or $3-$7 per bag. Delivery fees for large orders may range from $43-$146, depending on how far they'll have to drive.
7. Add a defined space
Creating a defined space to cook, sit, or play cornhole is one way to reduce the amount of maintenance in your lawn. Defined spaces in a lawn are often bordered and filled in with something other than grass.
For example, if you want to add a jungle gym, most homeowners choose to put a wood or rubber mulch in this space to give it definition and create a soft landing for wanna-be superheroes.

While the kids enjoy their area, the adults may enjoy sitting around a fire pit and patio area or spend time chatting around an outdoor kitchen. Adding hardscaping or mulched areas can give you spatial definition, function, and reduce the amount of grass in your yard. Even a simple backyard deck increases your functional space and reduces mowing and watering.

Think about what kind of functional, outdoor living space you'd like to add to your backyard and how that may reduce your water and maintenance costs.

Advantages of defined spaces:
Add structure to your landscape
Opportunity to create different functions within the lawn (sitting, cooking, play area, etc.)
Add value to the lawn by creating a space for everyone
Approximate cost: Varies widely depending on the project.
8. Plant a pollinator garden
Turfgrass is a useful tool in a home lawn: It provides a soft covering to walk on, enhances curb appeal, helps with erosion, and releases oxygen into the air. It is less appealing to local insects and birds, however. If you would like to reduce your maintenance costs and increase the wildlife activity in your lawn, plant a pollinator garden.

Birds, butterflies, and other wildlife prefer native plants most of the time because they've used these plants for food and shelter for thousands of years.
Here are a few native plant recommendations for pollinator gardens:

Flowering Plant – Gregg's mistflower – butterflies
Flowering Plant – Purple coneflower – butterflies – birds and mammals eat the seeds
Flowering Plant – Antelope horns milkweed – butterflies
Small Tree/Shrub – Kidneywood – butterflies
Shrub – Flame acanthus – hummingbirds and butterflies
Vine – Passion flower – butterflies – food for larvae
Advantages of pollinator gardens:
Provides shelter and food for wildlife
Provides visual interest (hummingbirds, bees, butterflies)
Pollinator gardens use many native plants
Approximate cost: If you DIY your own pollinator garden, you'll just be out the cost of the plants.
9. Build pathways
Walkways are another functional piece of your landscape that reduces the amount of space you'll need to regularly maintain. There are a million ways to craft walkways in your lawn. You can opt for poured concrete, paver bricks, or stepping stones. Flagstone, pea gravel, and stone steps up a steep hill are other ways to add interest to this functional element in your lawn.

Pathways aren't only functional and low-maintenance, they help create a sense of direction and movement in the lawn. You can make your paths straight, curved, or even meandering throughout the garden.

Consider edging along pathways to prevent weeds from encroaching, and separate the walkways from the beds or mulched areas. Walkways are a prime location for adding ground cover as well, especially if you are using large stones and need to fill in the spaces between them.

Advantages of pathways:
Provide a stable walking surface
Can be fashioned as stepping stones, gravel pathways, concrete, etc.
Give visual direction and movement in the landscape
Approximate cost: Expect to pay from $7-$24 per square foot to install a pathway in your lawn.
The Final Word on Low-Maintenance Landscaping in San Antonio
Even if you love spending time on your lawn, implementing low-maintenance landscaping is a smart choice to reduce water usage, invite native wildlife, and create functional spaces you and your family can enjoy.

If your idea of low-maintenance is having someone else manage your outdoor space, contact one of our San Antonio lawn care professionals to create functional, water-wise landscaping that will save you time and money year-round.
Main Photo Credit: Rain0975 | Flickr | CC BY-ND 2.0
Sarah Bahr
Sarah is a writer who has previously worked in the lawn care industry. In her spare time, she likes to garden, raise chickens, and mow the grass with her battery-powered lawn mower.