Well, if you answered yes to the above - starting a lawn care business could be a great career path for you. You can build a side business for some extra income, or work to build your company into a thriving lawn empire. However, it takes a lot (and I mean a lot) of effort to get your own business off the ground.
You'll need to learn how to market your business, grow your accounts, and manage customer service. You'll also need to master your cash flow, learn how to read an income statement, and manage taxes at the end of the year. As your company grows, you'll need to master hiring, management, and the people side of the business.
While there's a lot to learn, don't let that deter you. If you're willing to learn and have a strong work ethic, you have everything you need to be successful. We wrote this guide to show you how!
Get Equipment
It goes without saying that you'd be hard stretched to get the job done without the proper equipment. Not everyone has the capital to invest in everything on their wishlist up front, in which case you'll just need to start with the basics and build up your supplies over time.
What are the must-haves in lawn care equipment to get you started?
Truck or Trailer: Otherwise known as your headquarters, your truck is where you'll be spending a majority of your time throughout the day transporting supplies from job to job. Make sure it comes equipped with Bluetooth or an HDMI port for your phone's GPS to help you navigate among jobs.
Lawn Mower: Depending on the size of the initial jobs coming in, a riding mower may be preferred to save your back and strength over long hours. Otherwise, a push mower will do the trick.
Protection for your Eyes, Ears, and Hands: Goggles, masks, and gloves might be easy to forget but they are critical for your protection against the elements. Make sure to go heavy duty; better safe than sorry and an injury can ruin your day and slow down your business.
30 Gallon Lawn Bags: This is another one that can be easily forgotten but without it, can ruin your productivity. Making frequent trips back and forth to a dumpster or using small bags really slows you down.
Hedge Trimmers / Edger: Some jobs may require some initial trimming to even get to the lawn! Don't let overgrown bushes get in your way.
Leaf Blower or Rake: Ideally, leaf blowers save a bunch of time and backaches as opposed to a rake, which will still accomplish the same goal but will take much longer to use. Depending on your region, it might be necessary to go with a blower.
What if I don't have the capital to start my lawn care company from scratch with these items? You may be able to inquire about a small business loan to help cover the initial cost. The hope is that once you start raking in the lawn jobs, you'll be able to pay back your loan quickly. There are also financing options for most larger purchases.
Which brands or equipment are best for your lawn care business needs? Not all lawn care equipment is created equal and especially when starting your business, it's important to do some initial research. We have a series of articles dedicated to getting the right equipment. Be sure to check these out if you want to learn about the best trucks, mowers, or trimmers for lawn pros.
How do I maintain and store my equipment? Also, equipment requires regular maintenance and storage. If you do not have a large enough storage space at your home, you will need to find a place to keep your items overnight. A trailer might not be able to hold it all. You should also perform regular maintenance to ensure your equipment is working property.
Figure Out How Much to Charge
What would you say a job is worth to you? The answer might be different for everyone. But it's important to know the minimum amount that you'd accept for work and also to build a simple pricing range for yourself so that customers know what to expect before you complete the work.
Which factors influence how much I should charge for lawn care?
The service being completed: Mowing vs yard cleanup jobs, for example, both take a different amount of time to complete and require different tools.
The size of the lawn: This is another important factor in terms of how much time a particular job will take you. Since this can very wildly, it's important for both your pricing and scheduling to know how big the lot is before you get there.
How overgrown the lawn has become: Much like other services, the starting point has a large degree of influence on the time and effort required to meet your standards of excellence once completed. Overgrown lawns can also put a lot of wear-and-tear on your equipment.
Pricing can be complex and it's important to get right, so be sure to check out this article for more about how much to charge.
Lawn Love takes all of the guessing out by providing a fair and completely customized price for each job based on the factors listed above. We do this for you by plotting out the size of each customer's property and incorporating that into the instant quote. You don't need to go back and forth with the customer on pricing and you also don't need to develop a complicated pricing structure or try eyeballing the size of each lawn, a method that is prone to human error.
We also offer the ability to requote a job once you get to the location and see the state of the lawn. If the yard is overgrown or in disarray, you can simply update the quote with a touch of a button in the app.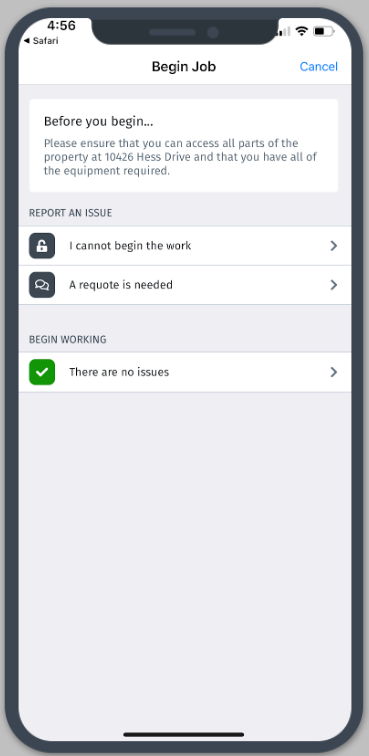 Get Customers
You need customers if you want to get paid. They aren't going to just fall into your lap, so get out there and find business for yourself!
You should try everything from posting flyers, to creating a website, and using social media to promote and build up your brand in your area. This will take some work on your part, but if you do it properly, your phone will be ringing before you know it!
If you have the resources and some marketing experience, you can also advertise on Google, Yelp, Instagram, and other places where homeowners are likely to find you. Be careful though, it's pretty easy to burn through a pile of cash if you don't know what you're doing, and there are a lot of snake-oil 'internet marketing experts' out there looking to sell you a song.
Partnering with Lawn Love kick starts this right away by pairing you with customers in your area. You can simply complete an application and can instantly claim lawn work near you through our pro app. Think just like Uber.
If you get the opportunity, don't be afraid to go for large commercial accounts at schools and government buildings. Those large accounts can take you to the next level rather quickly if you can land one of the contracts.
Check out our article about Marketing your Lawn Care Business for more tips.
Figure out how to Run your Business
Finally, once you are starting to acquire customers, you need to figure out a method that works for you to stay organized and to keep things on track.
So, what exactly do I need to figure out?
Keeping track of your customers: A CRM or 'Customer Relationship Management' tool is important for lawn care businesses like most others. Be sure to record your customers' full names, date of service, contact information, address where you completed the job, payment information, and anything else that you'll need.
Billing and Invoices: Developing a method to keep track of overdue invoices and for tracking completed payments is mission critical. Without this, things can quickly become a wild west and you may end up missing out on hundreds or thousands of dollars.
Collecting Payment: One of the most difficult parts about the job is actually getting paid not only on time, but also in the form that works best for you. Always discuss this with customers prior to completing the work. If your customer is using a credit card, make sure you have the necessary tools with you at the time of the job to accept payment in this form. Using an electronic payment app like Venmo, accepting cash, or an old fashioned check are also possible methods but just be sure your customer is aware ahead of time!
Logistics and Routing: For happy customers and to get the most out of each day, you'll need to put in time to plot out your route. It's important to consider not just proximity but also duration at each job site before you set out for the day, and before you commit to a deadline for your customers.
By the way, Lawn Love also does all of the above for you. You can see completed jobs, handle all of your payments through the app, and automatically build an optimal route to maximize your efficiency within the platform.
Starting a lawn care business from scratch may sound daunting but it could just be the best thing you do for yourself and your family. With the help of today's tools and partnering up with Lawn Love, it's actually never been easier. If you've ever considered starting a lawn care business, we hope this guide gave you some ideas for success. Now take the leap and get started!