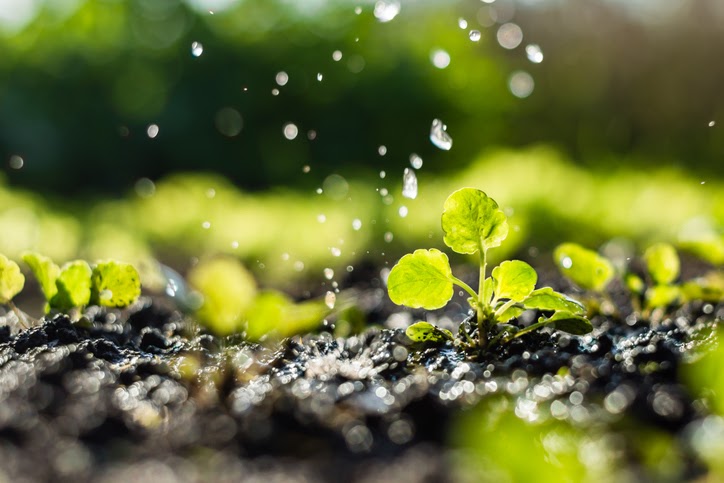 Planting grass seed is a way to expand your lawn into new areas and maximize the green space around your home. You can also plant new grass seed to improve your current lawn if it's looking a little dingy. You can even use grass seed to restart your lawn completely.
Before you seed, start with some quick and easy prep work.
Make sure it's the right time of year for seeding
As an easy rule, if you're experiencing (or are about to experience) harsh temperatures you'll want to wait until the extreme weather passes to plant your grass seed for best results. 
Either spring or fall is the best time to plant, based on your region and grass type. To keep this simple, if you're in the northern part of the country, you're likely in the 'cool season' area, meaning the best time to plant grass seeds is the fall, or typically September through November. If you're in the southern or middle regions, you'll likely want to plant in spring or early summer, typically March – June.
Trying to plant seed out of season may still be possible, but it can make for slower growing and hurt the chances of the new grass's survival. Just something to keep in mind.

Use the right type of grass seed for your area
Using the same regions shown above, you'll want to buy a grass seed type that grows best in your climate.

Cool season grasses (northern states) include: Kentucky bluegrass, Perennial ryegrass and fescue.
Transition zone grasses include: Zoysia, Fescue / Bluegrass blends, and Bluegrass / Perennial Ryegrass blends
Warm season grasses include: Bermudagrass, Bahiagrass, Zoysia, and Centipede grass.
Pennington's article on grass types based on more specific regions may be helpful if you're still trying to decide.

Supplies you'll need
Assuming that the timing is right, here's what you'll need to buy.
Grass seed
We recommend shopping on Amazon, Home Depot, or Lowes for fast and convenient selections. Home Depot will probably be able to provide more insight if you feel you're still questioning what grass type or how much to buy.

Check out this article on the Spruce for the best grass seed picks in 2020.A pH Tester
This will be used to test your soil before adding the seed. You can find these on Amazon for around $10.
Grass feeder (aka fertilizer)
Once planted, the seed will need to start growing quickly, before surrounding weeds out-grow and kill it. Grass feeder should be applied right after the seeds are planted, so be sure to add this to your cart as well.

Lawn soil
To protect the seeds from blowing away, being burned by the sun, eaten by birds, etc. you'll want to bury the seeds under a layer of nutrient-dense soil, like Scotts turf builder. Local nurseries and Home Depot or Lowes will have soil available, just make sure to explain your use before buying, to avoid any soil with weed seed.
3 easy steps to plant grass seed
Step 1: Prepare the surface of the lawn
Whether you are seeding for the very first time or just overseeding your existing thinned out lawn, you need to make sure you have a good, solid foundation. Make sure to remove weeds, rocks, sticks, and other debris from the lawn.
Check any uneven areas so you can try to level the ground before laying down any seed. This will help prevent water from collecting and pooling in low areas, which will cause the seed to rot.
Loosen the soil
If your soil is compacted, you will need to loosen at least the top four inches of soil. You can use a tiller or rake. This will allow air flow and will provide the best chance for vigorous growth.
You can also scatter out a thin layer of topsoil over the lawn at this stage. Since it is freshly laid, it will not be compacted, allowing good airflow. Make sure to keep enough left for coverage at the end.
Applying topsoil will also level out the lawn for a nice and even look, which will also help you avoid puddles when you are watering. If you encounter divots or holes, this is a good time to fill them in to prevent problem areas once the grass starts growing.
Step 2: Enrich your soil with nutrients to help grass seeds grow
If you're planting new grass seed because your lawn is dead or struggling to grow, there may be deeper issues to address with your soil.
This is where you'll need to get out your pH tester. Ideally, the pH for most grass types is between 6.0 and 7.0. 
If your soil's pH is under 6.0, it is too acidic, meaning it needs nutrients such as nitrogen, phosphorus, potassium, and calcium. Lime (aka limestone) can be applied to the soil to help increase the soil pH and make those nutrients more available.
If your soil's pH is above a 7, add compost, peat, sulfur, or fertilizer to lower the pH.
Step 3: Lay and feed the grass seed
When laying down seeds, you must do a pretty heavy application for a brand new lawn. Try to maintain an even application over the entire area so that everything gets covered.
Alternatively, you need lighter coverage when overseeding an existing lawn. Put more grass seed in sparse areas to promote growth.
To lay the seed, you can just use your bare hands or a spreader for larger areas.
Cover up the seeds or work the seeds into the soil
When seed is only applied to the surface level of the ground, it will dry out quickly and will not germinate. It might also get washed away by water or wind.
Add another thin layer of the soil that you purchased onto your lawn to bury the seeds.
If you do not have soil to put on top of the seeds, the seed must be worked into the soil; about ⅓ to ½ inch deep. After sowing the seed, use a rake to work the seed into the soil and smooth the surface.
This will keep the water from evaporating immediately, thus keeping the ground moist. It also protects the seeds from wildlife.
Add your feeder
Once the seed is applied to the soil, treat the yard with fertilizer to accelerate growth.

Maintaining your lawn after seeding
Water every single day
The final step in successfully planting grass seed is to keep the lawn adequately moisturized all the time. This is very crucial in the process.
If the seed dries out, it will die. After sowing grass seed, they will need constant and frequent watering unlike the "water deeply and less frequently" watering for mature grass. This is to help the seed germinate and develop its root system for a healthy lawn.
On the other hand, overwatering will hinder the germination process as well, so you need to use just enough water to keep the soil moist at seed depth. It should be moist, never soggy.
You must commit to water the new or overseeded lawn at least two to three times every single day to keep the top inch of the soil moist at all times. The germination time for grass seed ranges from 5 to 30 days depending on the variety or longer in cooler temperatures.
Check moisture levels
Once the seedbed has started to establish itself and sprouts have begun to pop out, continue to check the ground's moisture regularly. If you notice it getting dry, add some water.
Remember, these new grass seedlings have very short roots and they will still require very frequent watering so the roots can spread out. Steps one and two will just go to waste if the watering part will not be done appropriately, so your commitment is a must!
For after-care, whether you have seeded a new lawn or just filled in a bare spot, start mowing your grass after 8 weeks or until the grass has reached a mowing height. Do not cut it too short and do not cut more than one-third of its height as it will stress out the grass.
FAQs
How long does new grass seed take to grow?
Generally speaking, it takes between 7 and 30 days for grass seed germination to begin.
Can you just sprinkle grass seed on top of your existing lawn?
While it's possible to simply sow the new grass seed over your existing lawn, taking the time to prepare your lawn beforehand will increase the likelihood of seed germination and improve your end result.
Will grass seed grow if I just throw it down?
Probably not. Some seeds on the soil's surface will sprout, but the germination rate will diminish, and you will not be left with ideal results. 
Will grass seed germinate on top of soil?
It depends how loose your soil is. Grass seeds are not strong enough to grow through soil. They're meant to be placed on top of loose, prepared soil. Germination can quickly suffer from too much soil on top of them.